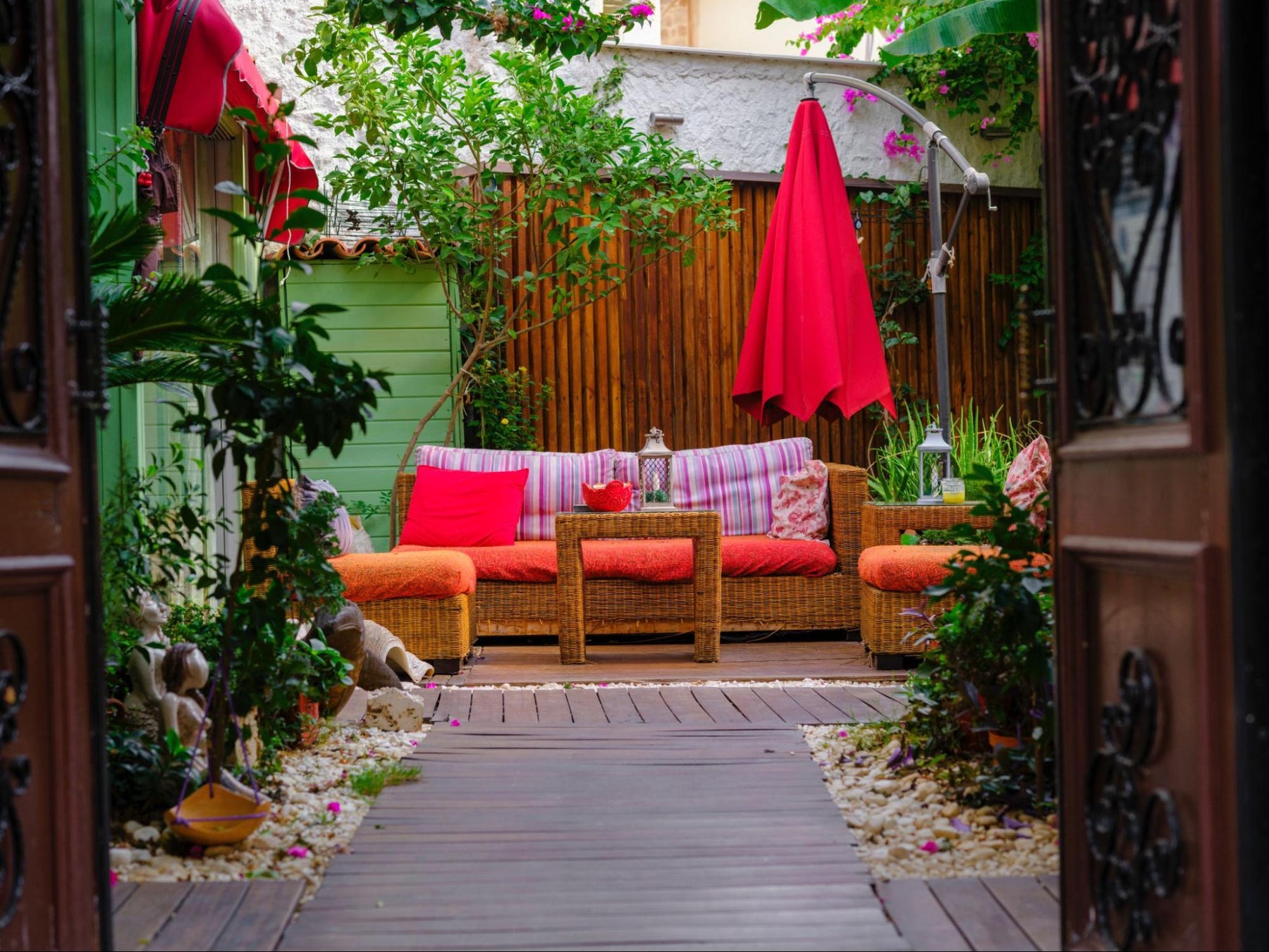 Elevate Your Decor: Discover Stunning Coffee Tables from Bohemian Home Décor
Patio and outdoor coffee tables are more than just a surface to place your cup of joe. They can truly enhance the beauty and overall aesthetic of your outdoor space. Whether you prefer a sleek and modern design or something more rustic and vintage, countless outdoor coffee tables suit every style and taste.
One way to beautify your space with a stunning coffee table is by choosing a unique and eye-catching design. Consider a circular or oval coffee table instead of settling for the traditional rectangular shape. These shapes can add visual interest and break up the straight lines of your furniture.
Naturally Beautiful Outdoor Coffee Tables That Can Enhance Your Outdoor Space
Ghente Coffee Table
The round outdoor coffee table is made of durable and weather-resistant synthetic rattan material, expertly woven in a natural color palette. The rattan is intricately crafted to give it a realistic and organic look, mimicking the appearance of natural rattan fibers. 
The coffee tables feature a smooth, sleek, woven tabletop, perfect for placing coffee, books, or snacks. The table's edges are woven in a decorative pattern, adding an elegant touch to the overall design. 
The table's base consists of a sturdy inverted cone-like figure, also covered in synthetic rattan, providing stability and support. The base is embellished with delicate woven details and can easily withstand the outdoor elements without losing charm.
The natural palette of the synthetic rattan includes a blend of earthy tones such as various shades of brown, beige, and tan. These colors perfectly complement outdoor environments, creating a harmonious and soothing atmosphere. These patio and outdoor coffee tables are an immaculate blend of modern construction and nature's beauty.
Marina Outdoor Patio
Coffee Tables
The rectangular patio and outdoor coffee tables are stunning masterpieces crafted from the finest teak wood. The elegant design and robust construction make it perfect for adding style and functionality to any outdoor space. 
Made from high-quality teak wood, this coffee table is built to withstand the elements and retain its beauty for years. Teak wood is known for its exceptional durability and natural resistance to weathering, making it an ideal choice for outdoor furniture. The flawless surface of the coffee table is a testament to the craftsmanship that went into its creation. 
The natural colors of the teak wood are another standout feature of this coffee table. The warm, golden hues of the wood create a welcoming and inviting atmosphere in any outdoor setting. As these outdoor coffee tables age, they will develop a beautiful silver-gray patina, adding to their timeless charm.
Conway
Patio and Outdoor Coffee Tables
Rectangular outdoor coffee tables are designed with a charming blend of antique gray wicker rattan and a matching gray synthetic plank tabletop, creating a stylish and durable piece that complements any outdoor space.
The frame of the coffee table is crafted from weather-resistant antique gray wicker rattan, meticulously woven to create a beautiful and intricate pattern. The wicker material adds a touch of vintage charm and ensures the table's durability against various outdoor elements. The natural gray hue of the wicker lends an elegant and natural look to the overall design.
Aura Rattan
Patio and Outdoor Coffee Tables
The rectangular coffee tables are adorned with a charming vintage touch through their elegant gray wicker rattan design. The wicker rattan weaves gracefully around the table's frame, providing a visually appealing texture and a soft, natural feel. The gray hue of the wicker rattan exudes a timeless sophistication that enhances the table's overall aesthetic.
The tabletop is made of clear glass, which adds a touch of modernity and transparency to the vintage-inspired design. The smooth glass surface showcases the intricate wicker rattan pattern and allows it to shine through, creating a delightful contrast between the organic weaves and the sleek transparency. The vintage gray wicker rattan and clear glass tabletop coexist harmoniously, creating captivating coffee tables that effortlessly combine classic and contemporary elements.
Manteo Rustic Coastal
Patio and Outdoor Coffee Tables
The square outdoor coffee tables are beautiful pieces crafted from a sturdy synthetic material that mimics the appearance of driftwood. Its natural-inspired design brings a touch of coastal appeal to any outdoor space.
The synthetic driftwood-like material used in the construction of this table ensures its durability in various weather conditions. It is resistant to fading, rotting, and cracking, making it perfect for long-term outdoor use.
The rustic driftwood grain details give the table a weathered and aged appearance, creating a charming and authentic feel. The natural color palette features shades of gray, beige, and brown, imitating the natural tones of real driftwood.
The coastal appeal of this coffee table adds a touch of seaside charm to any outdoor setting. Whether you have a coastal-themed patio or simply love the beachy vibe, these coffee tables are uncanny and perfect!
When it comes to outdoor decor, few things are more enjoyable than sipping a cup of coffee while surrounded by nature. Outdoor coffee tables inspired by nature not only provide a functional surface for holding your coffee but also add a touch of natural beauty to your outdoor space.
Bohemian Home Decor, is an online furniture store that brings natural beauty into your backyard. Our outdoor coffee tables, along with other matching outdoor furniture, are beautifully designed, aligning with the natural beauty of the outdoors. Our patio and outdoor coffee tables are made with durable materials and adorned with natural aesthetics that can easily blend with your stunning gardens, patios, and backyards!