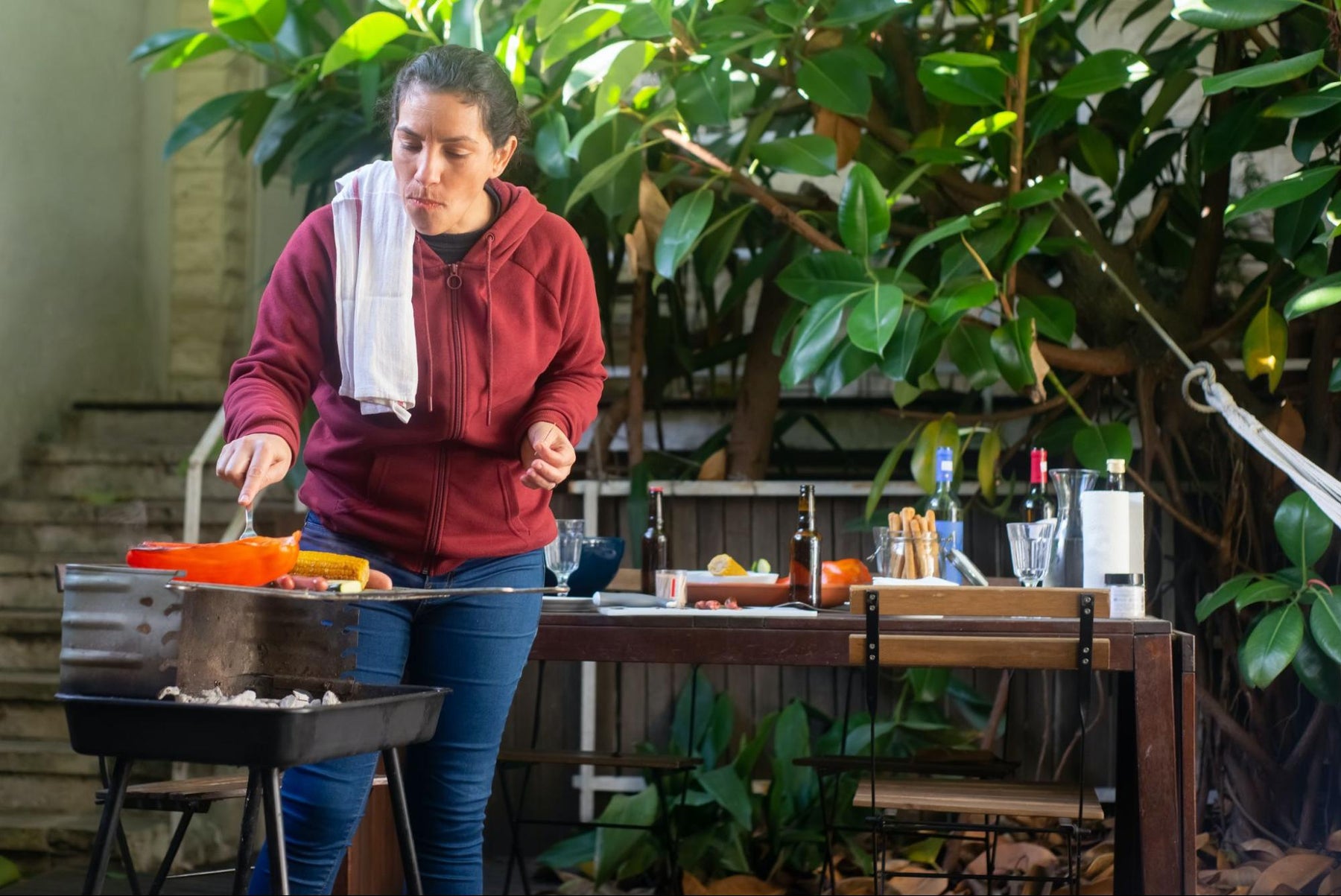 Modern Patio Coffee Table
Modern outdoor bar tables have become increasingly popular in recent years as more and more people create outdoor entertaining spaces. These bar tables offer a sleek and contemporary design that adds a touch of sophistication to any outdoor space.
One of the main characteristics of a modern outdoor bar table is its clean lines and minimalist design. These tables are typically made of high-quality materials such as stainless steel, aluminum, or teak wood, providing durability and a modern aesthetic.
Another prominent feature of modern outdoor bar tables is their versatility. These tables come in various sizes, shapes, and styles, allowing you to choose the perfect one for your outdoor space. Whether you prefer a rectangular or round table or a tall or low table, you can find a modern bar table that suits your needs.

In addition to their aesthetic appeal, a modern outdoor bar table offers functionality. Many of these tables have built-in features such as umbrella holes, footrests, or storage shelves, making them practical for outdoor use. Some models even include adjustable heights, allowing you to customize the table to your preferences. Here are some of Bohemian Home Decor's pristine outdoor bar furniture collection:
Raleigh Outdoor Patio Aluminum Bar Table
The Raleigh outdoor bar table is sleek and modern, perfect for any contemporary setting. The square tabletop is made of durable aluminum, ensuring sturdiness and longevity. With its polished finish, the tabletop shines with a reflective surface, adding a touch of elegance to the overall look.
The table stand is also made of polished aluminum, complementing the tabletop seamlessly. It is tall and sturdy, providing a stable and reliable base for the table. The x-style foot adds extra stability and balance, ensuring the table can withstand heavy use.
Measuring at a perfect bar height, this aluminum table is designed for socializing and entertainment. It is versatile enough to be used in various settings, such as bars, restaurants, outdoor patios, or even in residential spaces.
This outdoor bar furniture's simple and clean lines make it easy to pair with different types of bar stools or chairs, allowing for customization to suit individual preferences. It can accommodate multiple guests, creating a cozy and inviting atmosphere for gatherings.
Overall, this outdoor bar table combines functionality and aesthetic appeal. Its square tabletop, polished aluminum stand, and x-style foot all contribute to its stylish design and exceptional stability. It is a timeless piece that will enhance any space with its sleek and modern look.
Shore Outdoor Patio Aluminum Bar Table
The outdoor bar table is a stylish and modern addition to any outdoor space. It features a square-shaped tabletop, providing ample space for drinks and snacks. The tabletop is sturdy and durable, ensuring it can withstand various weather conditions.
The tabletop is paneled, giving it a unique and eye-catching look. Each panel is carefully crafted and seamlessly connected, creating a smooth, polished surface. The panels are in dark luscious color, adding a touch of elegance to the overall design.
The stand of the outdoor bar furniture is made of high-quality metal that has been polished to a silver-gray finish. The stand is sturdy and stable, providing reliable support for the tabletop. It is designed to withstand outdoor elements and maintain its sleek appearance.
The outdoor bar table is versatile and can be used in various settings. Whether it is placed on a patio, in a garden, or by a pool, it adds a touch of sophistication to the outdoor space. It is the perfect spot to gather with friends and family, enjoy a refreshing drink, and soak in the beauty of nature.
Convene Small Outdoor Patio Bar Table
The outdoor bar table is perfect for any patio or backyard gathering. Crafted with attention to detail, it is beautifully enhanced with dark brown wicker and a sophisticated clear glass table top. This combination of materials creates an elegant and modern aesthetic that seamlessly blends into any outdoor space.
The dark brown wicker adds a touch of natural charm to the table. It is expertly woven around the sturdy frame, providing a durable, weather-resistant surface that can withstand the elements. The wicker also adds a hint of texture and depth to the overall design of this outdoor bar furniture, creating an inviting and cozy atmosphere.
The clear glass table top is the crowning jewel of this outdoor bar table. Made with high-quality tempered glass, it is not only aesthetically pleasing but also highly functional. The transparent nature of the glass allows the intricate details of the wicker base to be prominently displayed, adding an extra layer of visual interest. It also provides a smooth and easy-to-clean surface, making it perfect for serving drinks and food.
The combination of the dark brown wicker and clear glass creates a versatile piece of outdoor bar furniture that can effortlessly complement various styles and color schemes. Whether it is placed in a modern, minimalist setting or a cozy, rustic environment, this outdoor bar table will always add a touch of elegance to your backyard.
Shore Outdoor Patio Aluminum Rectangle Bar Table
The Shore Outdoor Patio Aluminum Rectangle Bar Table exudes a sleek and modern aesthetic with its silver-gray polished aluminum construction. The outdoor bar table stands on four sturdy legs, providing excellent stability and support.
The tabletop of this outdoor bar table is paneled, adding visual interest and texture to the design. The panels are made of the same polished aluminum material, creating a seamless and cohesive look. The polished surface of the aluminum reflects light beautifully, creating a striking sheen that enhances the table's overall visual appeal.
The rectangle shape of the table offers ample surface area, making it perfect for outdoor gatherings or entertaining. Whether hosting a cocktail party or enjoying a casual dinner with friends, this outdoor bar furniture provides plenty of space for drinks, snacks, and food.
The silver-gray color adds a contemporary touch to any outdoor space. It complements various patio decors, from minimalist to eclectic styles. The neutral hue also allows the table to blend seamlessly with furniture pieces and outdoor surroundings.
In addition to its stylish appearance, the Shore outdoor bar furniture is also highly durable. The aluminum material is naturally resistant to rust and corrosion, making it suitable for outdoor use. It can withstand various weather conditions, ensuring long-lasting performance and enjoyment.
The best patio bar table is designed to withstand various weather conditions. They are often treated with weather-resistant coatings or made from materials naturally resistant to moisture and UV rays. Bohemian Home Decor, NJ, has the best patio bar tables that can add style, function, and versatility to our outdoor bar. Our outdoor bar furniture collection showcases modern style, sleek urban aesthetics, and highly-durable construction. Browse our online catalog and make your backyard ready for any party!