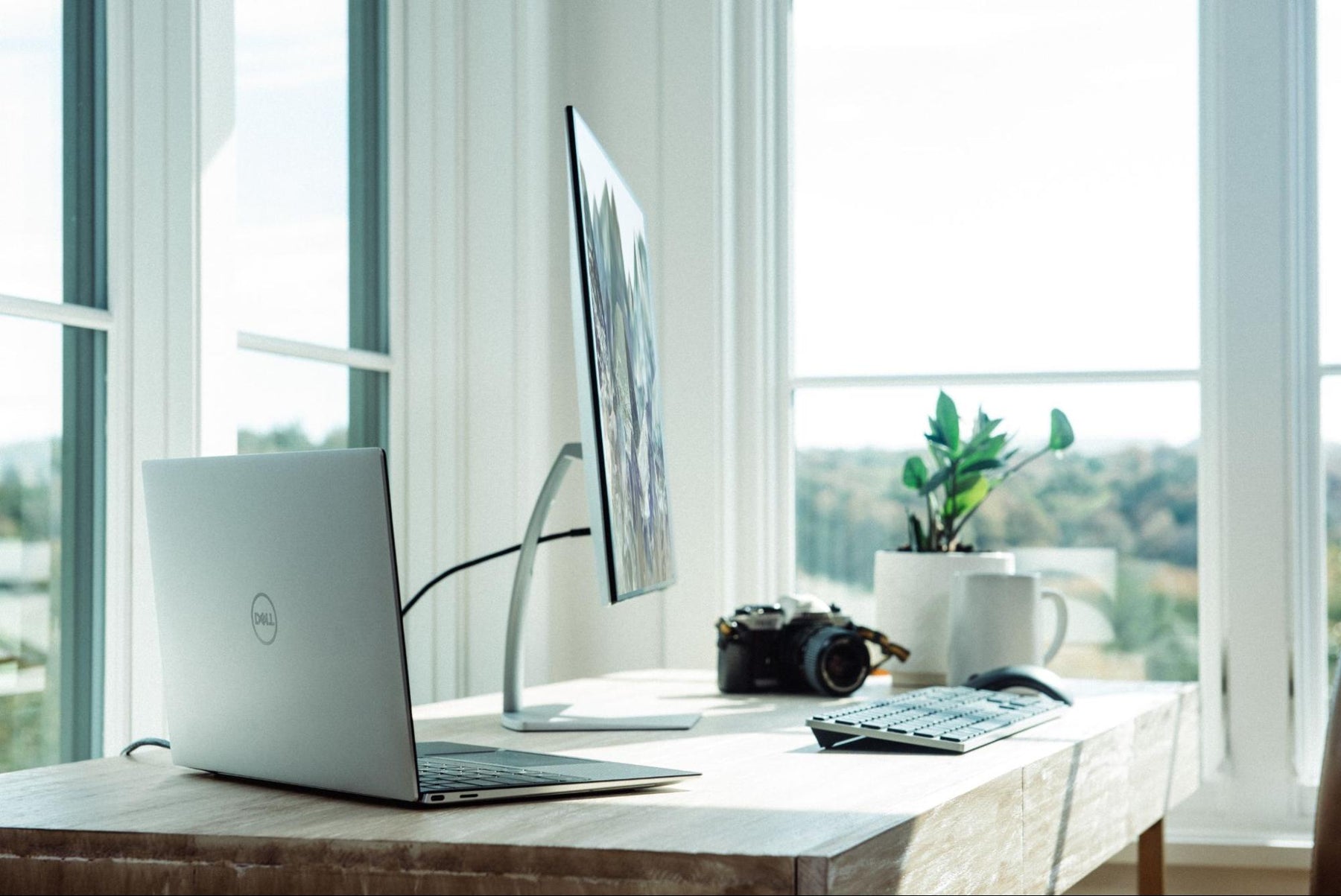 Mid-Century Modern Home Office Space Makeover for Under $1000
What influences productivity mostly is the environment. The comfort of your office chair, your desk's surface, your table lamp's illumination, and ample storage of your space are all contributing factors. Home office spaces must be conducive to working to increase productivity and minimize stress. 
A few tweaks can give your home office a fresh look. Moreover, the function is as equally important. Every design element in your home office must have an intended function that can enhance your daily experience. If you are on a tight budget, here are some tips for home office trends in 2023 for under $1000.
Total Home Office Remake for $1000
60" Wall Mount Wood Office Desk
Your working space is the area where your spend most of your eight hours every day. It is only right to have a computer desk that can provide comfort while you complete a complicated task. The Merit Wall Mount Wood Office Desk is ideal for small office spaces. It is a versatile piece decorated with chic contemporary linear details and lush yellowish-brown wood grain laminate. It comes with two drawers for your office essentials and a pull-out keyboard drawer. 

The Merit Wall Mount Wood Desk is a modern Mid-century home office desk. It has crisp edges and subtle wood grain details. With a few touches of other home decor and a new ergonomic home office chair, your home office space can help you boost your drive to work every day.

Lattice Vinyl Office Chair
Another factor that can affect your productivity is your home office chair. The ergonomic design of the chair contributes to its comfort. It has to give you important support to avoid backpains and sores. The Lattice Vinyl Office Chair has a sheer simplicity that can dwell beautifully in any modern home office. It is a high-back home office chair with armrests. 
The Lattice Vinyl Office Chair has a slick figure that can easily slide and fit under your computer desk. The diamond trim tufted details add layers of depth to its design. It is anchored on a polished chrome base with black hardware accents.
Convey Bronze and White, Marble Table Lamp
Lighting is another vital element in a working space. It is even more important if you work late at night. The Convey Bronze Marble Table Lamp is a chic modern table lamp with a supple contemporary curved figure. It is anchored on an elegant white marble dome base with subtle gray marble veins. 
The Convey Bronze Marble Table Lamp will add a touch of opulence to your space. It displays a matte black dome shade with a satin-like brass gold arm. It is a luxe touch to your home office space at a good deal!

Skadi Rainbow Diamond Shag Area Rug
Why not go all out and make your feet feel like stepping onto pool clouds while you solve corporate shenanigans? Apart from keeping your acoustics around the room balance, it will also give your space a more cozy appeal. The Skadi Rainbow Diamond Shag Area Rug has the softest texture that will make your feet feel the sheer delight of not stepping directly onto your cold tiled floors.
The Skadi Diamond Shag Area Rug has playful rainbow palettes that can add interest to your home office space. This boho rug will render a subtle laidback appeal while keeping you active while working—chic bohemian rugs for your inviting and stimulating home office space. 
Bixby 21" Bookshelf
Storage is essential when it comes to keeping your space clear of clutter. Having a bookshelf with a drawer around your home office space can provide more storage for your files and a display area for your favorite photographs and artisan sculptures. The Bixby Bookshelf can fit in small spaces. It is a four-layer bookshelf with a drawer.

The Bixby Bookshelf has a sheer light-brown wood grain veneer and a smooth, crisp drawer finish. It will add extra function and storage space to your home office and easily blend with any home decor style. If you are looking for new ways to redecorate your home office with a purpose, a bookshelf will make a good start. 
Home office makeover need not have to cost a lot. All these home office essentials only cost a total of $952. With less than $1000, you will enjoy a more comfortable home office while significantly increasing your productivity.
Bohemian Home Decor is an online furniture store that offers an array of home office essentials. Browning through our furniture and decor collection will mesmerize you with stylish, on-trend, and timeless pieces.