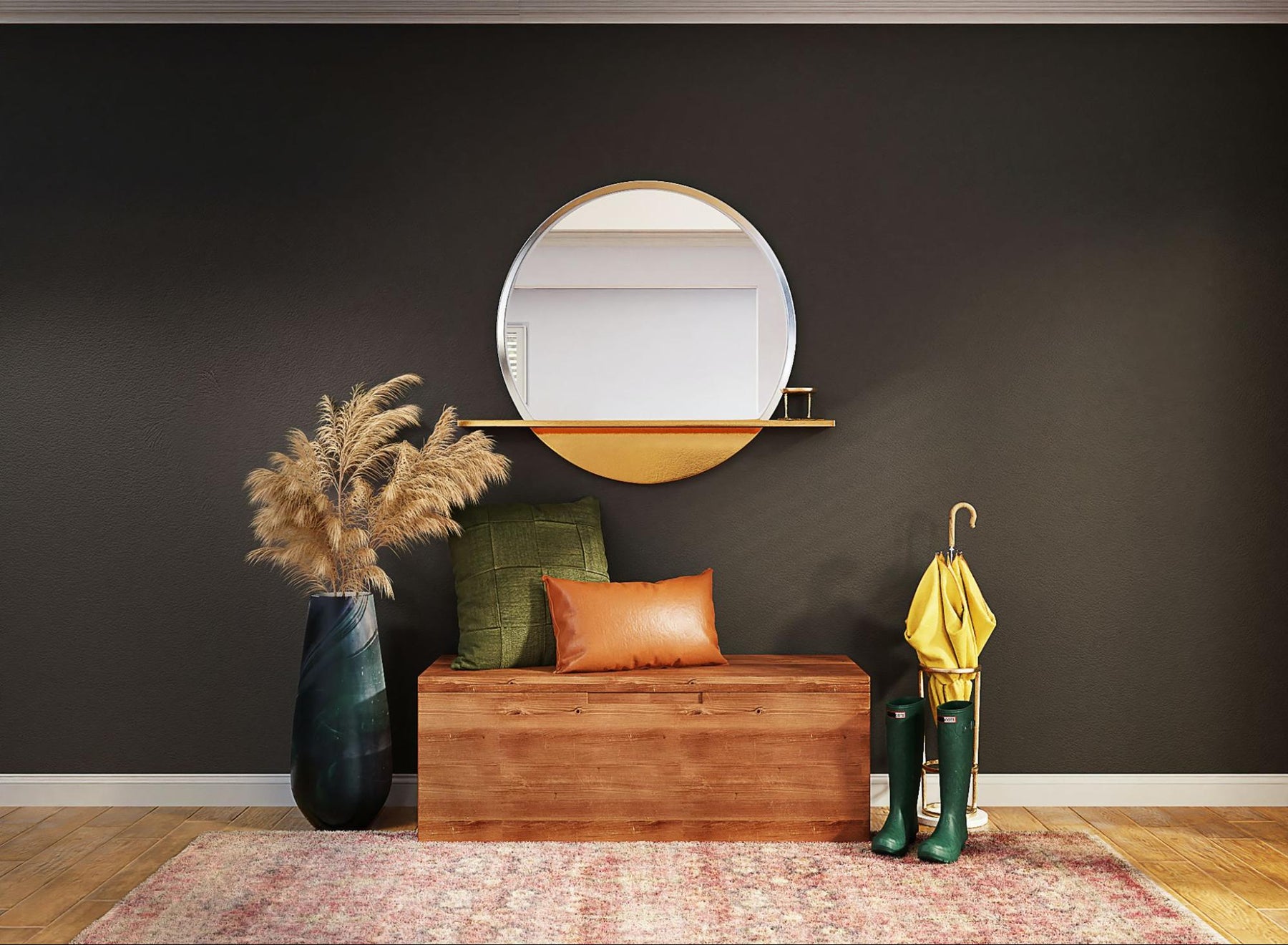 How To Style Your Foyer? Genius Entryway Ideas
Make a grand impression by styling your foyer with the right furniture. Most foyers are narrow, and it could be a challenge to pick the ideal design elements to ensure ample space to walk. With the right furniture and dimensions, you can instantly create a welcoming space. It's all about planning, knowing what you want, and sticking to it. Your entryway concept must be aligned with your interior design to create a cohesive flow. The colors also play a significant role in your overall design. So, if you are planning on revamping your foyer with a whole new look, here are some ingenious ways to style your entryway:
Stylish Ways to Style Entryways
A Surface for Personal Everyday Items
Your foyer is often the area where you leave and get your keys before leaving and after entering your home. Storage in your entryway is a genius way to clear clutter and have that extra space for other household items. However, the challenge is storage can take up a lot of space. On the other hand, the perfect piece of furniture for entryways is a console table. A console table is designed with a narrow width but is lengthy. It could serve as your writing table or a space for your sculpture collection. Hence, a console table is ideal for foyers with limited space. 
A Storage Space for Clutter and Other Items
Storage is the key to keeping your foyer clear of clutter. It will come in handy when you have guests coming over. If you don't have the space for a coat closet, sturdy hooks can keep your entryway organized and functional. Additionally, if you have extra space for a cabinet, you can easily incorporate this into your entryway design. A woven basket is also a stylish way to store your umbrellas, slippers, and scarves. A 60-inch dresser drawer is enough to store drapes, curtains, or even shoes. A storage bench is a multi-functional piece that will also make an ideal entryway furniture for your foyer. A storage and seating area is quite ingenious. 
A Boho Rug for Additional Comfort
A boho rug is a striking way to wow your guests. Also, it keeps your acoustics better and avoids disturbing and annoying clanking of your shoes. It also protects your floors from wear and tear, considering your entryway gets a lot of foot traffic. A boho rug rendered in dark colors and intricate patterns will also hide inevitable dirt. Despite you will need to clean this rug more often than your other rugs, it will make an essential design element in your entryway. 
An Inviting Lighting Fixture
A lighting fixture can instantly remake the mood in your foyer. Apart from creating beautiful silhouettes, it will also add to the charming beauty of your foyer. If you have picked simple furniture and you need a little something to uplift the space, an eye-catching pendant light or chandelier will be perfect. Moreover, decorative lighting in your foyer is not necessarily for decorative purposes only. Choose something that can provide ample illumination and brightness to make it functional. Wall sconces are also one of the smartest ways to style and add purpose to your foyer. It will render beautiful dramatic silhouettes on your foyer walls. 
A Large Wall Mirror for a Spacious Illusion
As was mentioned, most foyers are narrow. A mirror can instantly create a more spacious ambiance in your entryway. Also, it can be a convenient design piece whenever you need to check your outfit before leaving the house or retouch your makeup. Mirrors come in a range, from the simplest frames to the most intricate ornate styles. It's all about balance. To pick the right mirror, you will need to look at every piece you have in your foyer and match it. But, if you think everything seems to be too ornate, a simple wall mirror will suffice. It can serve as your connecting piece.
A foyer will give you a chance to make a lasting impression on your family and friends. It will also remake your lifestyle and make your everyday living better and more convenient. The simple touches of refreshing, stylish consoles, delightful lighting, a striking boho rug, a few decorative touches, and a mirror can refresh your entryway in a tasteful, trendy way. Just bear in mind that each element must be cohesive to avoid a confusing and chaotic entryway. The more simple it is, the more functional it will be. 
Bohemian Home Decor is an online furniture shop that delivers charming and edgy furniture pieces and decor from notable manufacturers, artisans, and designers. Our furniture collection boasts tasteful modern styles, charming classic designs, and long-lasting durability and purpose. We have curated entryway furniture and decor will make a good start if you want to give your inner creative and designer a chance.