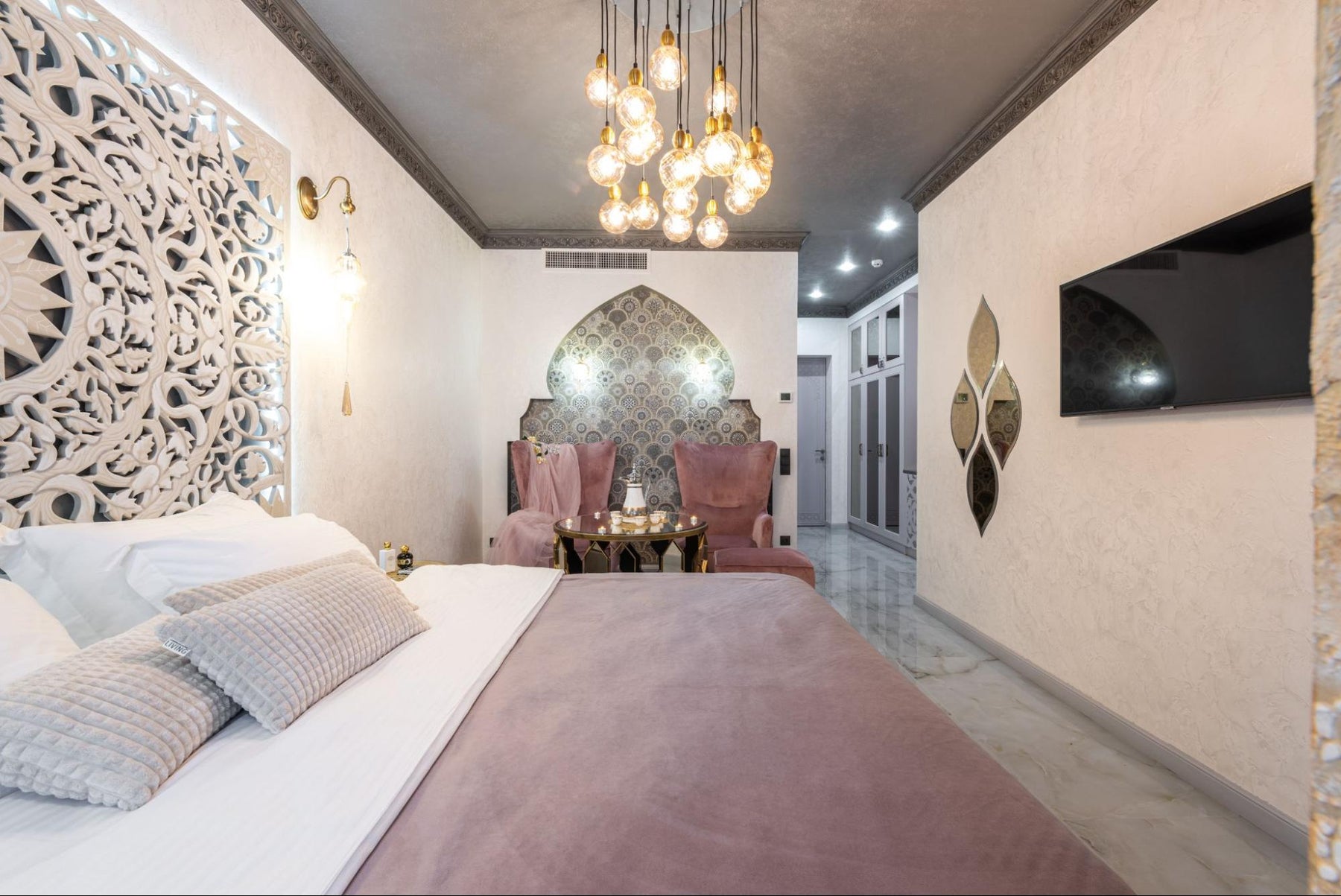 Trending Bedroom Lighting Ideas by Bohemian Home Decor
Lighting can have an ample effect on your body clock. It can also provide a more structured routine and purposeful use around your house. Lighting design can help you improve how you deal with your daily chores as well as your sleeping habits. Wall light, pendants, ceiling lights, floor lamps, and table lamps have all their intended purpose. Adding a touch of decorative and functional lighting will deliver a more efficient space. 
Bohemian Home Decor has an array of lighting pieces in diverse colors, styles, and materials. If you are looking for ways to light up your bedroom, here are some trendy lighting ideas:
Stylish and Simple Bedroom Lighting Tips 
Chalice Swing-Arm Metal Wall Sconce
A wall light beside your bed is integral lighting. If you don't want to opt for the traditional table lamps, wall lights can provide the same illumination while having extra space for books on your bedside table. Beautifully decorated with dome, metal shades with polished veneer and gold accents. It is anchored on a round baseplate creating a cohesive silhouette. It allows you to direct its glow easily. A beautiful wall lamp that can add flexibility to your bedroom design. Moreover, Chalice Wall Sconce has a dimmable feature that can put your right into a relaxing evening mood when dimmed and a bright, active mood when in full blast. 

Stellar 3-Light Semi-Flush Ceiling Light
Ceiling lights in your bedroom will create a charming glow while creating a luscious focal point around your bed. A ceiling light can be a luxury but can also serve as your general lighting with the right amount of bulbs and luminescence. The three sleek, polished globe lights are decorated with a smooth, elegant surface with accents of black hues. It is anchored on a silken chrome round baseplate creating a chic contemporary style.
Constellation Clear Glass and Brass Ceiling Light Pendant Chandelier
If you want an extravagant piece that will wow your guests, a starburst pendant chandelier will invoke a radical, voguish style. The clear glass globes accentuated with satin-like brass details and black anchors render a sophisticated yet striking look. A bedroom that celebrates an atypical style will pair with the Constellation Pendant Chandelier. It will give your space a burst of energy in a stylish, modern way. 

Pacific Metal Tripod Floor Lamp with Glass Shade
Floor lamps can be a delight for late-night readers. If you have an accent reading chair in your bedroom, a floor lamp will add a more functional lighting element to your space. It will add layers of luscious warm illumination while adding height and depth to your bedroom's overall design. A chic and simple gold metal tripod floor lamp will make an exquisite balancing element in your bedroom. The Pacific Floor Lamp with traditional cream glass shade can simply add a sense of elegant style with a taste of luxury.
Leroy 3-Light Pendant with White Glass Globe Shades
Your corners can be a bland spots that might need a little touch of illumination. Pendant lights can highlight your wall decor and dark crannies. It will as a sense of comfort and style. A simple 3-light pendant will also look intriguing on top of your bed. It will make an unconventional lighting piece if you want to create a more homey atmosphere. It has a crisp spherical figure rendered in an opaque surface with accents of silken brass gold and black wires. 
Table lamps are by far the most common lighting in a traditional bedroom. But picking a unique coastal table lamp that will add a pop of graceful curves and dramatic veneers will uplift the ambiance of your space with a little something calming and comforting. The Ellipse Table Lamp is rendered in glistening polished turquoise curving glass with a white fabric drum shade. A coastal-chic table lamp for your cozy, beach-vibe mood. 
Lighting your bedroom with beautiful soul-warming silhouettes can help you improve your evening mood before you sleep. It can help better your sleeping schedules and add functional lighting for a more efficient lifestyle. From your bedside lamps to your pendant lights, a well-lit bedroom will completely remake your daily routine more sustainably and enjoyably.
Bohemian Home Decor is an online furniture shop that delivers charming and edgy lighting fixtures from notable manufacturers, artisans, and designers. Our lighting collection boasts tasteful modern styles, charming classic designs, and long-lasting durability and purpose. Each piece can help you decorate your bedroom with the most ideal lighting style and function. Visit our collections to shop!