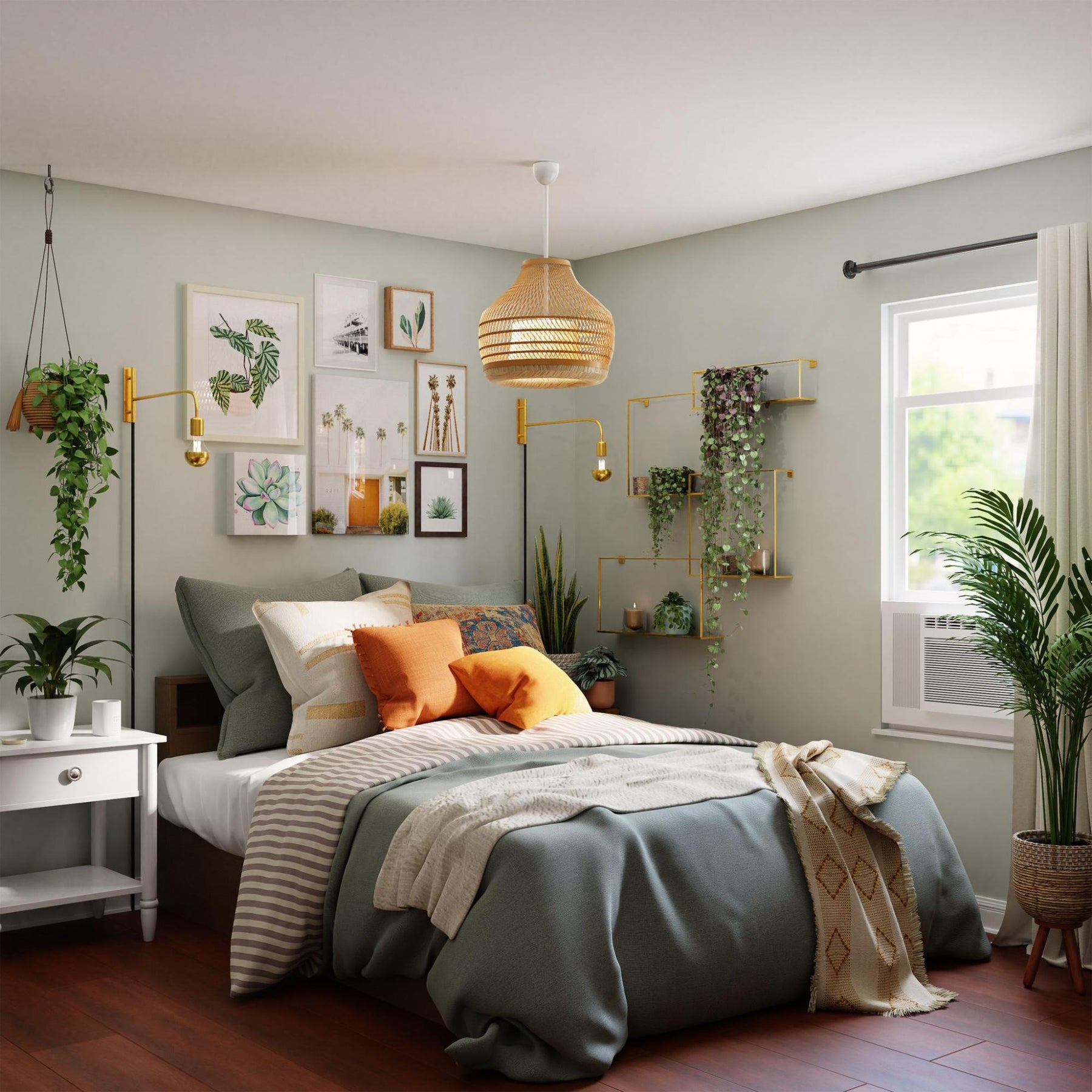 How to Design a Bohemian-Inspired Bedroom?
To create a bohemian-inspired bedroom, start by selecting a bed frame in a style that reflects the free-spirited aesthetic of the bohemian look. A rustic four-poster bed with an ornate headboard and canopy is a great choice. For the dresser, look for a piece with a distressed finish and ornate detailing. An antique piece is ideal, but you can also find affordable, modern pieces that mimic the look of vintage furniture. For the lamp table, select a piece with curved lines and intricate carvings. Embellish it with a colorful or boho-patterned table lamp. 
Moreover, select bedding and window treatments that reflect the bohemian aesthetic. Rich, vibrant colors and patterns such as paisley and floral prints will bring the bohemian look to life. Look for bedding sets with a variety of textures, such as velvet and silk, for an inviting and cozy feel. For window treatments, opt for sheer curtains or colorful drapes. You can also incorporate a loveseat or a small sofa at the end of your bed. 
You can also add the finishing touches to your bohemian-inspired bedroom. Hang wall art featuring vibrant colors and unique designs. Place plants in the room to bring in a natural element, and add some cozy throw pillows and a colorful boho rug to complete the look.
Bohemian Bedroom Furniture 
A Minimalist 3 Piece Queen Fabric Bedroom Set
This minimalist wooden floating bed is a modern take on bedroom furniture. It has a simple yet stylish design, with a low wooden frame and a mattress suspended above the floor. The frame is made of sturdy wood, and the bed's height can easily be adjusted to fit any room, and its low profile allows for plenty of additional storage space underneath. The candor of this 3-piece bedroom set will allow you to play around with your curtains, sheets, and pillow covers. 
Prospect Performance Velvet Loveseat
This tufted velvet loveseat is an irresistibly luxurious piece of furniture. The loveseat is upholstered in a smooth, sumptuous velvet fabric that is soft to the touch. It features a classic tufted design, with small buttons adorning the backrest and arms, as well as the seat cushion. The love chair is deep and comfortable, with wide armrests that are perfect for resting your arms upon. The loveseat couch is supported by four sturdy legs, which are finished in a block wood painted in a matte black palette that complements the velvet upholstery. This tufted velvet loveseat sofa is sure to be a stylish addition to any living space.
A Boho-Chic 6 Drawer Dresser
This wooden dresser drawer has woven rattan drawer fronts that give it an elegant touch. The woven rattan is light brown in color, with hints of lighter and darker hues, giving it a natural and boho appearance. The weave is slightly intricate yet still simple, making it a great piece of furniture for any room in the house. The wooden frame of the bedroom dresser is decorated with rich dark wooden grains and has a sleek and modern look to it. This 6-drawer dresser is spacious, offering plenty of space for storing clothes or other items.
A Laidback Lounge Chair and Ottoman Furniture
This tufted fabric lounge chair with ottoman furniture is a comfortable and stylish addition to any living room. It is upholstered in a soft and textured fabric, with plush tufting and deep seating. The chair has a high, curved back with a wide, padded seat and four dowel legs for support. The ottoman furniture is the perfect size for propping up your feet and relaxing. The accent chair and small ottoman are finished with a classic button tufting along the edges and contemporary tones. This accent lounge chair and ottoman set is the perfect combination of comfort and style.
A Whimsical Iridescent Glass Table Lamp
This iridescent glass table lamp has a unique look that will add a touch of sophistication to any room. The bedside lamps are made of a clear glass base with a light shade in a beautiful iridescent color. The light is warm and inviting, and the light it casts on the room is mesmerizing. The bedroom lamp has a modern design, with a sleek silhouette and simple lines. The iridescent glass reflects the light and creates a subtle rainbow-like effect. This table light will be a beautiful addition to any room and is sure to bring a splash of color and style.
A Natural Woven Rope Pendant
The woven rope pendant lights are beautiful, rustic-looking hanging light fixtures made from natural fibers. It features a central stem from which several braided-rope hangers hang in a cascade forming a modest geometric 3D figure. The hanging light is hung from the ceiling by a simple matte black metal chain. The warm, natural tones of the rope combined with the subtle glow of the light create a cozy and inviting atmosphere in your bedroom. The woven rope has a unique texture and durable construction, making it a great choice for any room that needs a hint of warmth and boho character.
Bohemian design is a style of interior design that is inspired by the carefree and creative lifestyle of bohemian culture, typically featuring bright colors, eclectic furnishings, and bold patterns. It usually incorporates elements of global and cultural influences, such as textiles, fabrics, art, and furniture from around the world. Bohemian design is often used to create a relaxed, cozy atmosphere with a focus on comfort and warmth.
Bohemian Home Decor has an array of boho-chic furniture and decor. We have a charming collection of laidback pieces of lounge chairs, rustic pendants, and magically glowing table lamps. Our boho furniture pieces will layer your space with an easy breezy look that will indulge you in a good mood.