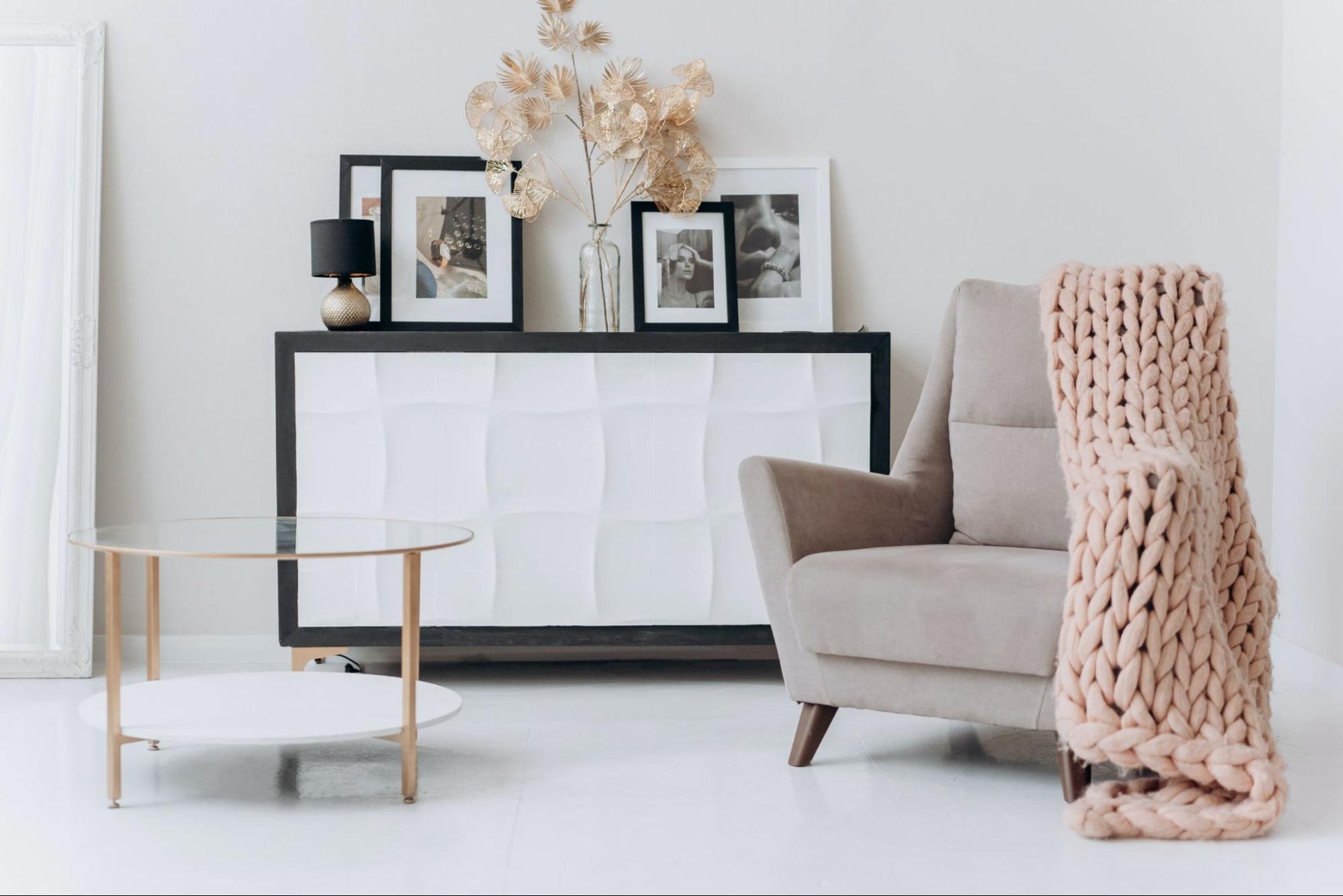 How To Decorate a Large Wall in Living Room?
A blank large living room wall is a blank canvas. It exudes an opportunity to get creative and add a unique character to your living space. Living room decoration is crucial to add interest and style to your space. 
Decorating a large blank wall gives you a chance to highlight your personality. Perhaps, a gallery wall filled with your framed photographs and art. A floating shelf embellished with your few favorite decors will also give your living space a taste of your style.
Ways to Decorate a Large Blank Living Room Wall
Embellish it with a Leaning Mirror
A wall mirror makes a space appear even bigger while adding some dramatic reflections. It can instantly remake your room into something bigger and brighter while adding essential functions. Empty walls will look grand with a classic, wood-carved frame. On the other hand, if you want to go for the minimalist look, a simple large wall mirror will create a harmonious, cohesive living space.
Decorate it with Floating Shelves
Installing floating shelves can liven up your living space with splashes of colors and figures. You can embellish your blank wall from the floor to the ceiling with floating shelves while beautifully creating a vignette display of your favorite pieces. Floating shelves also add a focal point to your living room. It will create a more personalized design while accentuating your unique sense of style.
Display a Hanging Rug
Boho rugs aren't merely for decorating floors. With the beautiful patterns and textures of boho rugs, it can decorate your large blank wall with intricacy. Its beautiful details will add a visually striking appeal to your living space. Your living room will appear design-minded and practical.
Hang an Oversized Art
Art always brings intrigue to any space. It will add a sense of culture to your living room while adding some tasteful images. An oversized art print can cover a large portion of your blank wall. It will add an eye-catching focal point. You can print a beautiful picture of anything you love and cover your whole wall. Pretty easy!
Add a Playful Display
Give your living space a taste of a youthful, playful look by decorating your wall with proportionately arranged decor and playful accent decors. You can paint your wall with a striking palette and embellish it with some eclectic pieces you collected from all over the world. You can also go beyond and create an impeccable vignette of sculptures and vases. 
Incorporate a Supersize Essentials
Why not make it stylish but functional? Supersized essentials such as a large printed calendar or an oversized clock will add a fashionable essence to your space while making it purposeful. Designing a large blank wall need not be expensive. With a little stretch of your creativity, it can surely go a long way.
Go Bold and Make a Statement
Why not go bold and display an extravagant statement piece? Perhaps hanging a large wall sculpture or an exquisite lighting design. You can also turn your blank wall into an accent wall while decorating it with luscious colors, a statement accent chair, and a Mid-century floor lamp. Combined, your blank canvas will transform into something functional and stylish.
Add a Lustrous Ambient Lighting
Wall lights can be your go-to design trick if you have walls that appear too bland and empty. A wall light is a decoration itself. It also adds more purpose to your space while creating a beautiful evening ambiance. Perhaps paired iron wall sconces can make all the difference. Rather, oversized task wall lights will add an exquisite lighting fixture that renders tantalizing, theatrical silhouettes. Either way, wall lamps can easily embellish your large blank wall.
Bohemian Home Decor aims to provide home decor that creates a beautiful space. Our array of wall decor and lighting will give your space a sense of style. We want to contribute to your comfort and satisfaction by providing you with a wide selection of decor for your living space. 
Our online furniture store makes every customer feel safe and satisfied with our boutique-like online shopping customer service. We want to be the first furniture store you will think of whenever you need something to refresh your space.