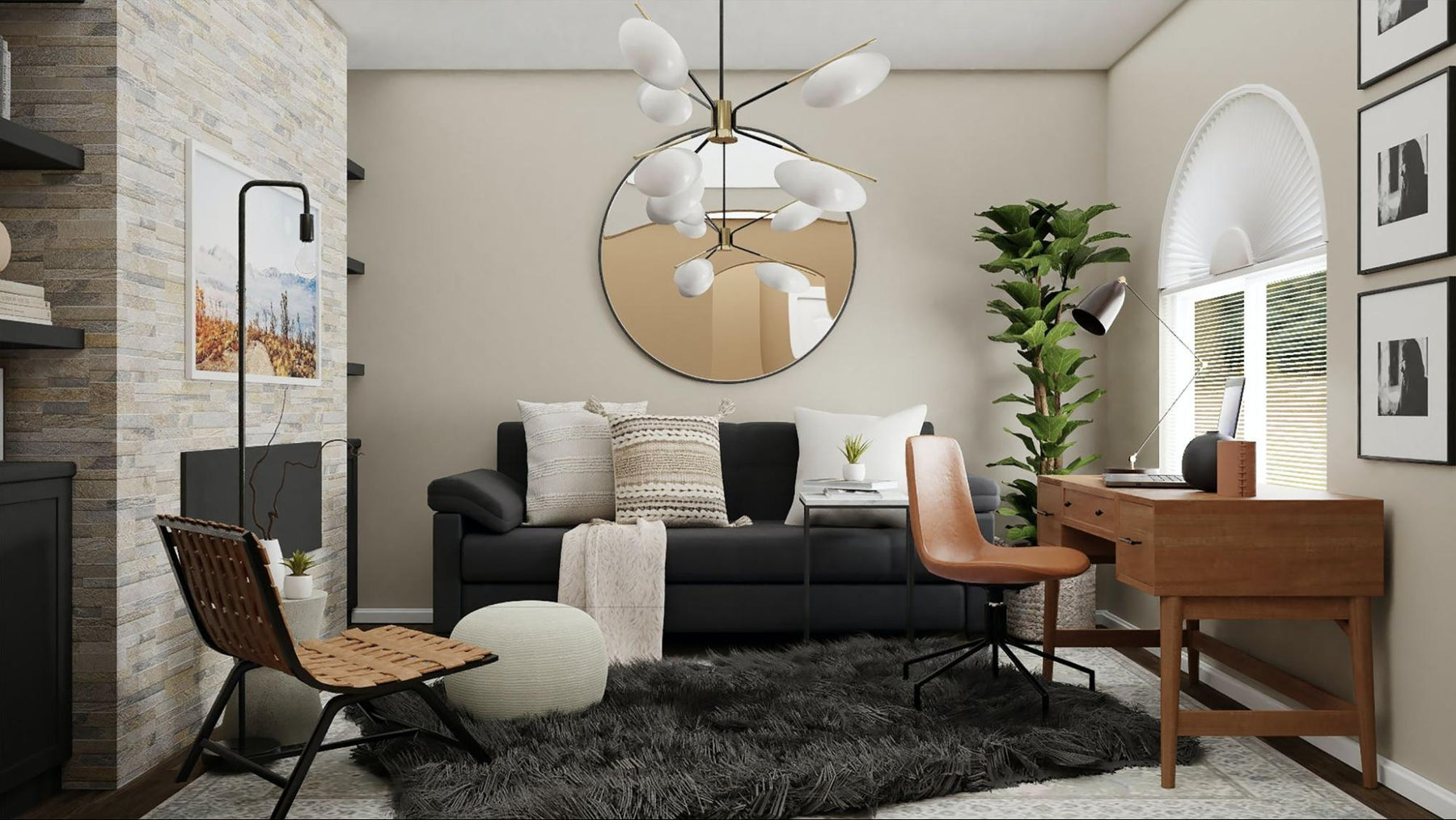 Home Decor Furniture Ideas for Anyone Living in A Small Space
If you don't have the luxury of a large space, being smart in your living room design can help you optimize every inch of your room. From picking the right color to choosing the right-scaled furniture can be useful in creating a functional and harmonious space. 
It's all about the little tricks and tips of styling a small space. Every element can contribute to the overall facade and ambiance. Thus it is essential to have some tricks up your sleeve to attain a functional living space.
Here are some of our tips on designing a small living room:
How To Decorate a Small Living Room?
Paint Your Walls White or Light-Colored Hues
Darker tones can make the space appear smaller. If you want to make your small space look airy and spacious, white walls will give you a blank canvas to play around with patterns and textures.
A white wall will go beautifully with any type of decor and furniture. You can also add a pop of striking palettes, indoor plants that purify the air, and some patterned accent pillows and curtains if white is too subtle for your taste. With white walls, your living space will feel lighter and appear brighter.
Opt for a Minimalist Look
Going for minimalist living space can give you a sense of calmness. When designing a small living space, less can be more in terms of functions. You can achieve a seamless flow around the room without injecting a chaotic atmosphere. 
Look for a few carefully curated pieces and highlight them individually. Add a tinge of slight variations of textures, figures, and depth to break away from boring designs. Monochromatic schemes work immaculately in small spaces. It creates a blissful, simple look that will render you a harmonious abode. Modern Mid-century chairs are the perfect furniture to incorporate into your small living space. They are designed with a refined simplistic appeal that can give you a taste of minimalist flair.
Utilize Your Walls by Choosing Vertical Decor
If your floor space is limited, vertical decors can do the trick. Leaning mirrors, picture frames, artwork, or statement wall clocks are a few of the home decor you can choose from to decorate your living space. 
Vertical decors will highlight your ceiling height and create an elongated look. Tall plants, vertical stripes, and floor-to-ceiling bookcases are also ideal decors for a small living space.  These design elements will display a unique character to your room while making your low ceiling appear higher.
Create an Illusion of Spaciousness With Mirrored Design Elements
Glass, polished surfaces, and mirrored decors reflect the environment of your living space. It also renders a dramatic image to your room while creating a spacious illusion. You can accent your small living room with polished gold pieces to add a twist of elegance. 
Large mirrors are also smart hacks that you can incorporate into your design. Mirrors can instantly brighten up your room so it will appear bigger. By placing a mirror opposite your windows, you will be able to maximize its function and effect.
Choose Furniture with a Light-Weight Appearance
The lighter the facade of your furniture, the more it will add a harmonious look to your living space. It will create a visually spacious living space with a taste of minimalism. Leggy furniture with a natural exterior, glass tops, and polished surfaces will create a brighter and lighter room appeal. 
It is also important to pick the right scale. A large sofa and accent chairs will not work in small living spaces. Rather, low couches, thin-armed chairs, and multifunctional coffee tables will do the trick.
Pick Multi-Functional Furniture
Small living room spaces lack storage. Thus, it is essential to look for pieces of modern chairs and pragmatic furniture that can give you extra storage for caring for the clutter. A coffee table with drawers and ottomans with storage is a smart furniture hack for storage solutions.
Bohemian Home Decor is an online furniture store that curates stylish, versatile, and functional interior decor, furniture, and lighting pieces. Our boutique-like customer service provides a satisfactory experience for every purchase. 
Bohemian Home Decor gives a comfortable and secure online shopping experience. Our online furniture store is armed with advanced digital technology that allows our customers to explore, purchase, and make a transaction with ease and unequivocal online security.