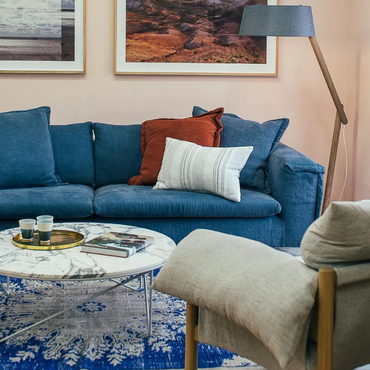 5 Best Modern Round Coffee Tables For Living Room
5 Best Modern Round Coffee Tables For Living Room
Your coffee table is typically centered in your living room. It can make all the difference in terms of cohesiveness of the design, utilizing the space, and creating a beautiful living room within your budget. Your coffee table holds personal things such as books, family pictures, and favorite decor. It has to have the right size to fit what you need. 
Bohemian Home Decor curates modern, Mid-century, artisan pieces of coffee tables that can fit any budget and home interiors. Our online furniture shop offers all sorts of furniture that can cater to exactly what you need for your home. 

If you are looking for the ideal coffee table for your living room, here are our top picks:
Stylish Modern Round Coffee Tables
The Luxurious Mie Coffee Table
The Mie Coffee Table will fit well in a luxury home. It is embellished with a gold bent steel base and topped with an opulent Carrara marble. The vivid details of the marble veins can elevate your posh interiors with layers of Grecian style. 

The Mie Coffee Table has a pristine facade that can layer your space with a luxurious appeal. The distinctive rhythmic pattern the bent steel creates adds a visually striking impact that can turn your living room into a high-end abode for a hotel-like experience. 
Material
: Carrara marble top | Stainless steel with gold color base
Dimensions
: W 116cm x D 116cm x H 35cm
Price:
$2,892
Maisie Coffee Table - Oval
The Maisie Coffee Table is a ritz piece of furniture that can beautifully highlight your favorite living room items. The purity of the marble top will add a touch of genuine style to your space. Its soft edges and immaculate curvature exude sophistication and modern elegance. 

The Maisie Coffee Table will sit beautifully in a minimalist modern living room. The finesse of its figure and upright structure emanates an opulent essence and will alter your space into a Grecian luxurious atmosphere. 
Material
: Marble Top | The base is made of cast aluminum
Dimensions
: Small: W 90cm x D 55cm x H 43cm | Large: W 107cm x D 70cm x H 43cm
Price:
$1,106
The Industrial-Chic Modern Plastic Round Accent Coffee Table
The Modern Plastic Round Coffee Table is made with polypropylene plastic to ensure timeless quality. The legs are structured with Beechwood to add a touch of natural essence to its facade while adding a more robust construction. 
The Modern Plastic Round Coffee Table is an industrial-chic piece that will elevate your industrial living room interiors. It is a practical option but armed with sturdiness to withstand daily wear and tear. 

Dimensions
:
20" Dia x 17.5" H
Material:
Made with solid polypropylene (PP) plastic
Price:
$76.50
The Charming Mid-Century Gabbia Round Coffee Table 
The Gabbia Round Coffee Table has a rich and luscious facade that displays a classic elegance. The flawless wooden surface and the black bent steel legs create a beautiful and harmonious balance. 

The Gabbia Round Coffee Table will dwell immaculately in a modern home or Mid-century abodes. The magnetizing pattern the bent steel legs create adds a touch of rhythmic pattern that can captivate. 
Material
: Base: Metal | Top: MDF + Veneer
Color
: Base: Black | Top: Cocoa
Dimensions
: Diameter 80cm x H 41cm
Price:
$711
The Sophisticated Manon Marble Coffee Table
The Manon Marble Coffee Table is a sophisticated piece of furniture that can satisfy your sophisticated taste. It will add a twist of Grecian opulence to your home while providing you with the amenity it is intended for. 
The Manon Coffee Table radiates a spotless marble top that harmoniously pairs with abstract gold legs. Its alluring facade adds a charming appeal to your space while giving you a taste of luxurious ambiance. 
Base
: Steel chromed color champagne gold
Dimensions
: Diameter 45cm x H 37cm
Price:
$284.45
Your coffee table design can make or break your living room interiors. Choosing the right size is crucial. A round table is an efficient shape that can bring flexibility to your space. It can hold your favorite living room items beautifully while adding a functional piece of furniture to enhance your everyday living. 

Bohemian Home Decor handpicks items that fit any home interior and budget. Our furniture pieces are stylish, on-trend, and sophisticated despite the price. We are an online furniture store that provides a boutique-like experience to our customers. 

Bohemian Home Decor is a furniture boutique that caters to every interior styling, furniture, and decor for all seasons. Our US-based warehouse guarantees the pristine condition of the package as we hand deliver them to your beautiful home.