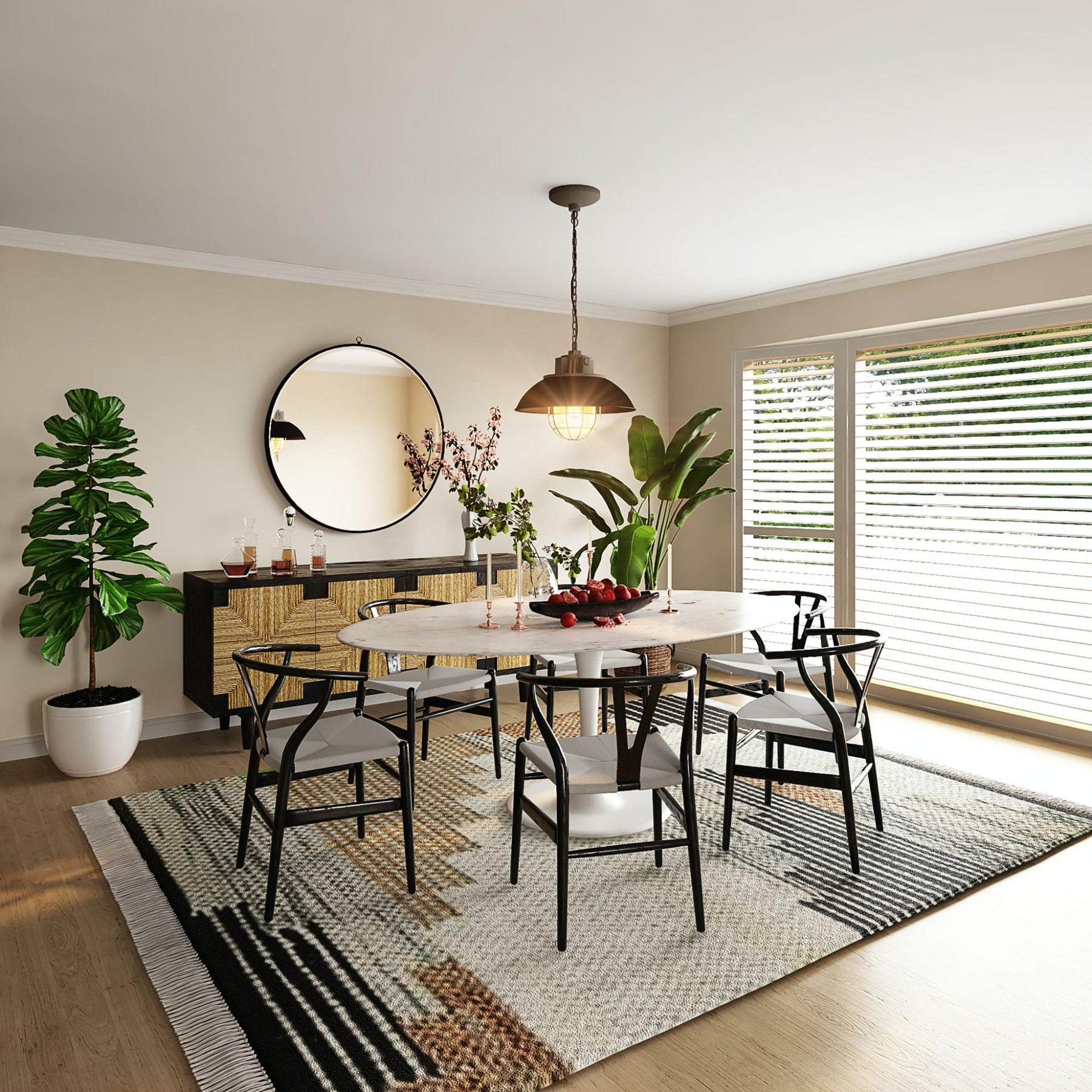 What Type of Furniture is Best for Dining Room?
Your dining room space is the place where you enjoy a meal with your family. It is one of the most important areas in your home. Your dining space must exude a stimulating atmosphere that can enhance your appetite. 
There are a few design elements a dining room must have. These elements can simplify your life while you enjoy a memorable conversation with your family over dinner. Here are some types of modern Mid-century dining chair must-haves:
Dining Room Designing Guide
Dining Room Furniture
The first thing you need to consider when creating your ideal dining room is the pieces of furniture that you need to include. 
Dining Chairs

Hutch

Buffet
The first two are the most essential dining room essentials. While as for the hutch and buffet, you can have them if you have enough space for them. The hutch is a large and tall piece of furniture with open shelves for displaying your Chinawares. On the other hand, the buffet is a low piece of furniture used for extra storage. You can also put food on top of the buffet if you are hosting a get-together in your home. 
Dining Room Decor Tips
With a few simple touches, you can create a dining room that will make a fine-dining experience. By adding a few decors, beautiful illumination, and the smell of freshly baked cookies, your dining space will envelop you with a warm and cozy feeling. 
Here are a few decorating ideas to inject your personality into your dining space:
Make art your centerpiece. 

Display your China in an open cabinet.

Add a touch of a classic vase with fresh flowers to the center of your table. 

Add a table runner for more details. 

Integrate an eye-catching chandelier or

pendant lamp

on top of your dining table.
Dining Room Design Tips
Space Clearance 
Leave at least two feet of clearance between your dining chairs and the walls of your dining room. Additionally, the space for each person also requires two feet so they can move and eat comfortably and freely. 
Dining Room Chairs
Dining chairs with arms must have a height that can fit under your table. Otherwise, your dining chairs will take up the walking space. Modern armchairs are ideal because you and your family or guests have space to rest your arms. It adds more comfort to your dining experience.
Dining Room Rugs
Rugs are an additional amenity but not necessary. But, if you want your feet to feel cozy and warm while you enjoy your home-cooked meal, a rug will make a perfect addition to your dining room decor. Additionally, rugs will improve the acoustics of your space. The noise will be minimal whenever you get up and push your chair back and forth. A thin and easy-to-clean rug is a practical option for dining areas.
Dining Room Proportions
Your dining table and chairs must be well-proportioned. A large dining area with a small chair will not look appealing. Thus, it is important to balance the scale of your furniture with the dimensions of your dining space. 
Design a dining space that stimulates appetite, creates memories, and brings a hotel-like dining experience with our luxurious dining table collection. Bohemian Home Decor handpicks modern dining chairs that exude absolute finesse and quality. We want you to feel and eat like kings and queens in the comforts of your beautiful home.
Bohemian Home Decor is all about style and timeless functionality. Our dining table collection and Mid-century dining chairs exhibits diverse designs, shapes, and sizes to cater to all kinds of dining spaces. We have a US-based warehouse that guarantees our fast delivery. Our online furniture store provides satisfactory customer service that will make you feel like shopping at a local furniture boutique in your area. Bohemian Home Decor makes an outright effort to deliver quality home interior needs and service.