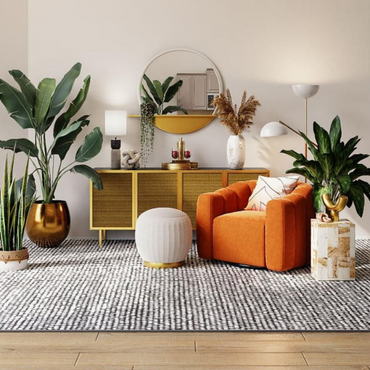 Trendy Bohemian Furniture Ideas For Your Home
Designing your own space has never been easier until the internet dominated the world. Interior design tips has become more accessible through the internet. Looking for the best home furniture, on the other hand, can be overwhelming due to the countless online options.
Some online furniture stores offer all modern furniture styles, some specializes in artisan and vintage pieces, while some present bohemian furniture style that can fit all kinds of spaces. Bohemian Home Decor is an online furniture store that curates artisan, Mid-century modern chairs, and classic and modern furniture. If you are looking for options for your next DIY interior design project at home, here are some furniture ideas to start you off.
Bohemian Home Furniture Options to Fit Your Style
The Rich Wood Grains of the Milla Cabinet 
The Milla Cabinet exudes a rich luscious wood surface ideal for a bohemian-styled house. The design give you room for more storage as well as feature your favorite home decors. The dark palette of the walnut wood exhibits an exquisite façade that can add a taste of organic luxury in your humble abode. 
It can also go well with live potted plants and bright colors if you aim to turn your home into a tropical millieu. Moreover, the Milla Cabinet can be a great addition to your classic home office space or perhaps an oriental living room space embellished in different kinds of wood. 
Style: Modernist Milla Vertical Cabinet
Wood Material: Real American Walnut veneer
Material: Solid American Walnut Base
Design Detail: Configurable vertical shelves | Retro splay modern post legs | True to original metal capped legs | Interior shelf surfaces in matching Walnut species
Dimensions: W 47cm x D 37cm x H 154cm
The Tasteful Elegance of the Evy Side 
The Evy Side table is a functional furniture perfect for your bed side extra storage. The beautiful hues of its natural surface will add a touch of nature in your space. It can also go well with your rustic living space. Its silken finish along with its simple form, display an outright classic with a twist of modern appeal. The Evy Side table is exudes both style and purpose. 
Material: Veneer MDF body | Solidwood legs
Dimensions: W 50cm x D 46cm x H 76cm
The Captivating Charm of the Solange Chair
The Solange Chair is a great accent chair for your space. Its unique facade can capture attention while giving your space an impeccable trendy and youthful abode. The Solange Chair is made with metal tube which is intended for longevity and durability. Additionally, it is a versatile chair modern Mid-century chair that can withstand any weather. 
Material: Metal tube with PE wicker chair
Color: Natural
Dimensions: W 76cm x D 83cm x H 89cm
The Oriental Appeal of the Jase Lounge Chair
The Jase Lounge Chair is an oriental-inspired Mid-century lounge chair perfect for your minimalist zen interiors. Its structural facade along with its natual appeal can turn a space into an Asian luxury home. It can beautifully go well with high-end Japanese interior spaces or perhaps an eclectic space that collects all sorts of furniture pieces. 
Material/Color: Solid ash wood frame | Black real thick leather
Dimensions: W 70cm x D 86.5cm x H 67cm | SH 29cm | SD 53cm | AH 46cm
The Exquisite Touch of the Lara Bar Stool
The Lara Bar Stool will look impressive to your Scandinavian-inspired kitchen. The touch of rose gold will dazzle your space with a taste of hotel-like luxury. Its modern furniture design that shows off a straightforward balance between style and purpose. The Lara Bar Stool is a posh Mid-century modern chair design that can transform your home into a palatial abode. 
Material: Steel chromed color rose gold
Fabric: Grey color
Dimensions: W 54cm x D 51cm x H 104cm | SH 77cm
The Luscious Luxury of Saskia Counter Stool 
The Saskia Counter Stool will look magnificent in your home bar. The impeccable texture of the velvet fabric display an unequivocal palatial appeal while the subtle geometric patterns adds intricate details to the design. The Saskia Counter Stool is an opulent modern Mid-century chair design that will add a touch of functional luxury into your kitchen counter or personal bar. 
Material: Velvet fabric seat | Metal legs
Color: Navy seat | Black legs
Dimensions: W 49cm x D 56cm x H 96cm | SH 67cm
Your furniture choices make all the difference in your overall home interiors. If you are looking the best home furniture that offer bohemian furniture styles, Bohemian Home Decor is an online furniture store that provides a boutique-like customer home shopping experience. 
Our online store is design strategically with sophisticated technology to bring ease and comfort to our valued customers. Our US-based warehouse allow us to deliver your packages in pristine condition.