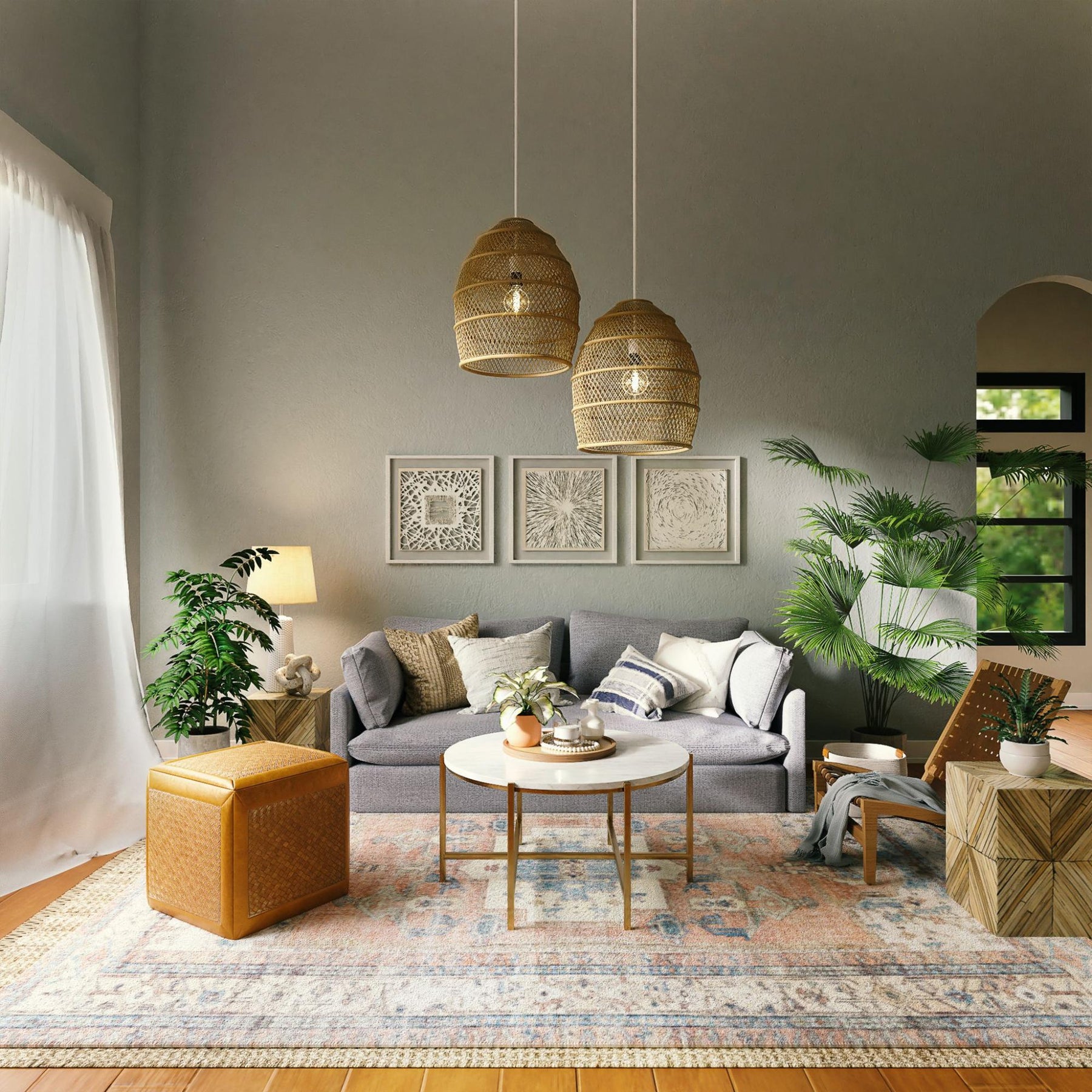 Tips and Ideas for Living Room Lighting
Family gatherings, special occasions, and holidays are mostly spent around the living room. Creating a conducive ambiance using lighting fixtures can significantly improve mood, uplift the spirit, and create a more memorable and meaningful bonding. 
Lighting is essential in a space. The right lighting can make the space more efficient and functional. With the right kind of lighting fixtures and tasteful modern Mid-century chair curation, your living room space will breathe in a new light. 
How To Design Living Room Lighting?
Create A Cozy Atmosphere by Lighting Up the Corners with Warm Lights
The edges of your living room are often not reached by natural or artificial light. That corner is always dark and gloomy. For you to give it a soft touch, lit up the corners by installing wall lights with warm temperature. Wall lights are ideal for small corners and add a unique personality to the room. It will make a charming pair with your modern lounge chairs for your evening reading pleasure.
Ornate Sconce for a Traditional Living Room Design
An ornate sconce is leaning more towards aesthetics. It is a decorative lighting fixture but can contribute to the layers of lighting in your space. It is typically embellished with Art Nouveau fashion or Baroque styles. Its intricate details will pique interest.
Decorate Your Living Room with Mid-Century Lighting
Make an impressive statement by embellishing your ceiling with a Mid-century chandelier. Apart from giving the space a little something to glance at, it can light up your living room with warmth and elegance. Mid-century chandeliers display a trendy structural design that can complement your modern Mid-century chairs. It works immaculately with your modern living room design.
Give Your Accent Wall A Little Bit of Visual Illumination
If you already have an accent wall, why not boost it by blending in pendant lights? Pendant lights are striking in the veneer. Apart from its conceptual facade, it adds layers of lighting effects to your walls. Perhaps hang three identical pendant lights at the center of your accent wall? It will never cease to amaze your family and friends.

Integrate Functional Lighting into Your Living Room Design
Task lighting promotes energy efficiency and sustainability. It keeps a certain area of the living room for a specific activity. If you have a reading nook or a workspace in your living room, it is only fitting to incorporate functional task lighting, so you need not have to turn on your general lights. 
An Overscaled Floor Lamp with Add a Dramatic Atmosphere
An overscaled floor lamp is a trend that amazes many. Apart from its intended purpose, large floor lamps will create a living room space with an edge. It also gives the room a focal point while giving an impactful impression to your family and friends.
Spotlight Your Favorite Home Decor
It would be grand to put a spotlight on the painting you bought during your family vacation or a sculpture made by a family or a friend. Spotlighting personal items such as artisanal sculpture, radical armchairs, and accent chairs give the room a more customized character. 
Go Big and Pick a Statement Chandelier
Chandeliers are one of the essential living room lighting needs. It lits up the space beautifully and decorates your ceiling with such an exquisite facade. Statement chandeliers are grand yet very functional. It will completely alter the looks of your ceiling while providing layers of visual impact.

Living Room Lighting Design Practical Tips
It is always best to consider the flow of natural lighting into the space. That way, you can optimize the natural light and save energy. So, before you go on and plan your living room lighting design, here are some tips to consider:
Know how and where natural lighting enters your living room. 
Know whether your living room is either south-facing or north-facing. 
The north-facing living room receives minimal natural light in the morning. 
The south-facing living room gets more natural light in the morning. 
Check your living room's proportion, such as ceiling heights, flooring, color palettes, and furniture. 
Consider the time of the day your living room is mostly used. 
Look for the natural dark spots in your living room and brighten them up. 
Integrate dimmer and lighting controls in your lighting plans. 
Choose the right kind of bulb.
Kinds of Bulbs
Tungsten Bulbs

- produce warm lighting and are fully dimmable. However, they are not energy-efficient. 

Halogen Bulbs

- produce a bright instant white light. It is best for living room spaces with a working space.

CFL Bulbs

- are energy-saving bulbs that light up the room with either warm or white light. 

LED Bulbs

- by far the most energy-saving and sustainable. It produces warm, white, and cool lighting. 
Living room lighting design is a crucial part of designing a living room. They are equally important to furniture in terms of providing comfort and ease. The living room is usually where memories are made with family and friends. Having adequate lighting around your living room can improve bonding moments. 
As advocates of creating memorable moments with families and friends, Bohemian Home Decor curates lighting fixtures that can improve the atmosphere of your space, save you energy, and enhance your lifestyle. 
Chandeliers that make a statement, unique pendants, ornate sconces, and other lighting decors for home are available at our online shop. Our boutique-like customer service will provide you with the right kind of attention every time you purchase. 
Not to mention, we have a US-based warehouse that ensures your package arrives in pristine condition. Bohemian Home Decor's array of lighting fixture collections will satisfy all your living room lighting needs and wants.