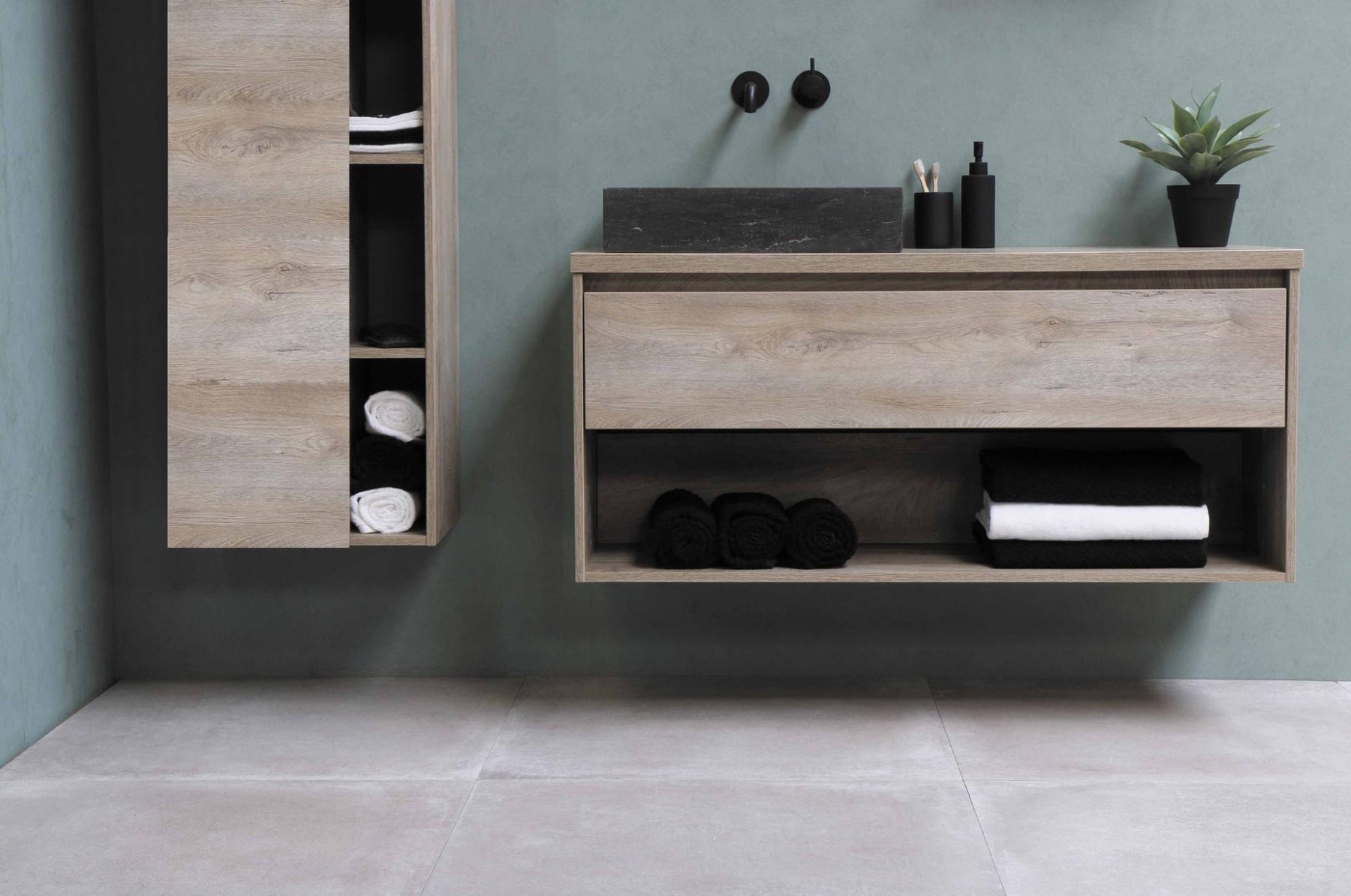 The Perfect Wall-Mount Vanity Cabinets for Large Bathrooms
Having a large bathroom is a luxury. However, if you don't pick the right bathroom furniture and the right size, your large bathroom can appear bland, empty, and boring. Large bathrooms require large furniture and decor to exude a proportionate facade. Designing a large bathroom gives you a lot of freedom to choose your furniture. You will have the chance to bring more functions to your bathroom that most small bathrooms can't. Perhaps a large wall-mounted bathroom cabinet with a dual sink and a large wall mirror? Or a vanity sink with a retro-style lighting design that will make you feel like a VIP celebrity? Either way, a bathroom vanity is a prerequisite in any bathroom. Be it big or small. 
There are ample selections when it comes to creating a fully-functional bathroom vanity, and it all starts with picking the right size and design. If you are searching for that ideal bathroom vanity for your large luxurious bathroom, here are some of the best wall-mounted large vanity cabinets that might fit your style:
Luxurious Large Bathroom Cabinets by Bohemian Home Decor
A Refined Minimalist 48-Inch Bathroom Vanity Cabinet
Sophisticated minimalist bathroom storage that can house your towels, shampoos, and tissues conveniently. It has a shimmering, polished surface that can render an opulent simplicity to the grandiose of your large bathroom. It comes with under-sink storage for your cleaning materials and two drawers for other bathroom essentials. The streamlined contemporary lines and soft-close door feature makes subtle details that inject sophistication. A refined large bathroom cabinet that will make every shower pleasurable.
A Sophisticated Contemporary 48-Inch Wall-Mount Bathroom Vanity
The flawless surface, sharp, crisp line details, and the outright geometrical figure make a large bathroom cabinet an easy option. It has a timeless appeal that can beautifully blend with any bathroom interior design. It comes with three large drawers that can house all your bathroom needs. The simplicity of its facade will render your large bathroom with an elegant touch and modern appeal. With its typical nature, you can go crazy with your tile patterns, lighting, and shower curtains.
A tasteful combination of rustic-chic and modern farmhouse style. It exudes a minimalist appeal with a distinctive figure to match any shapes and forms in your bathroom. The fiery reddish-brown palette envelops the cabinet with an intense appeal with a little touch of rustic subtlety. It comes with two full-extension drawers that provide a convenient way of storing and accessing your bathroom essentials. It will match large bathrooms rendered in neutral palettes. You can pair it with metal chrome or matte black faucets to compliment its cherry walnut finish. 
Modern Mid-Century 48-Inch Wall-Mount Bathroom Vanity
Painted in rich, dark walnut veneer, this Mid-century beauty has a classic look. A refined piece of bathroom furniture embellished with polished white drawer doors and a satin-like black ceramic basin. It comes with spacious soft-close doors with accents of silken chrome hardware. It is the ideal large wall-mount bathroom vanity for large spaces. You can decorate it with a large wall mirror, wall sconces, and an area rug to complete the look.
A Chic-Contemporary 48-Inch Wall-Mount Double Sink Bathroom Vanity
The crisp, clean lines and smooth slick surface creates a glistening silhouette. The angled edges with contemporary minimalist tones. The three soft-door drawers feature a timeless figure that will stand the ever-changing trends. It comes with three large storage spaces with an inlaid division to organize the items in your drawers easily.  
A Fiery Wooden 48-Inch Wall-Mount Bathroom Vanity
Embedded in natural reddish-brown veneer and minutiae wooden grain details, this double wall-mount cabinet is a complementing addition to tropical-inspired bathrooms. It will mix well with your indoor purifying plants and clay pots. The organic appeal of its surface can also blend with oriental-style interiors and the famed Japanese Wabi-Sabi concept. Large drawers, simple facade, functional design. 
Cabinet drawers are a chic way to store your bathroom essentials. Wall-mount bathroom cabinets are space-efficient and straightforward. Large bathrooms deserve a double wall-mount cabinet topped with a luxurious double sink. It can accommodate two people simultaneously with enough space to move around. Every bathroom needs storage regardless of how big.
Bohemian Home Decor curates purposeful bathroom vanity cabinets without compromising style. Our bathroom cabinet collection shows off an impressive combination of taste and function. Not to mention, each piece is crafted with durable, lasting materials, smart, modular design, and universal structure to fit most large-scale bathrooms. 
We have pieces that range from Nordic-inspired simplicity to Grecian-styled luxury. Our bathroom vanity cabinets come in various sizes with design variations that can be easily fused with your existing bathroom furniture. Our trendy selection will stimulate your creative side and inject design ideas that will highlight your taste and personality. They can either be your balancing design element or the center of attention. Either way, your bathroom experience will always be comfortable and satisfying.