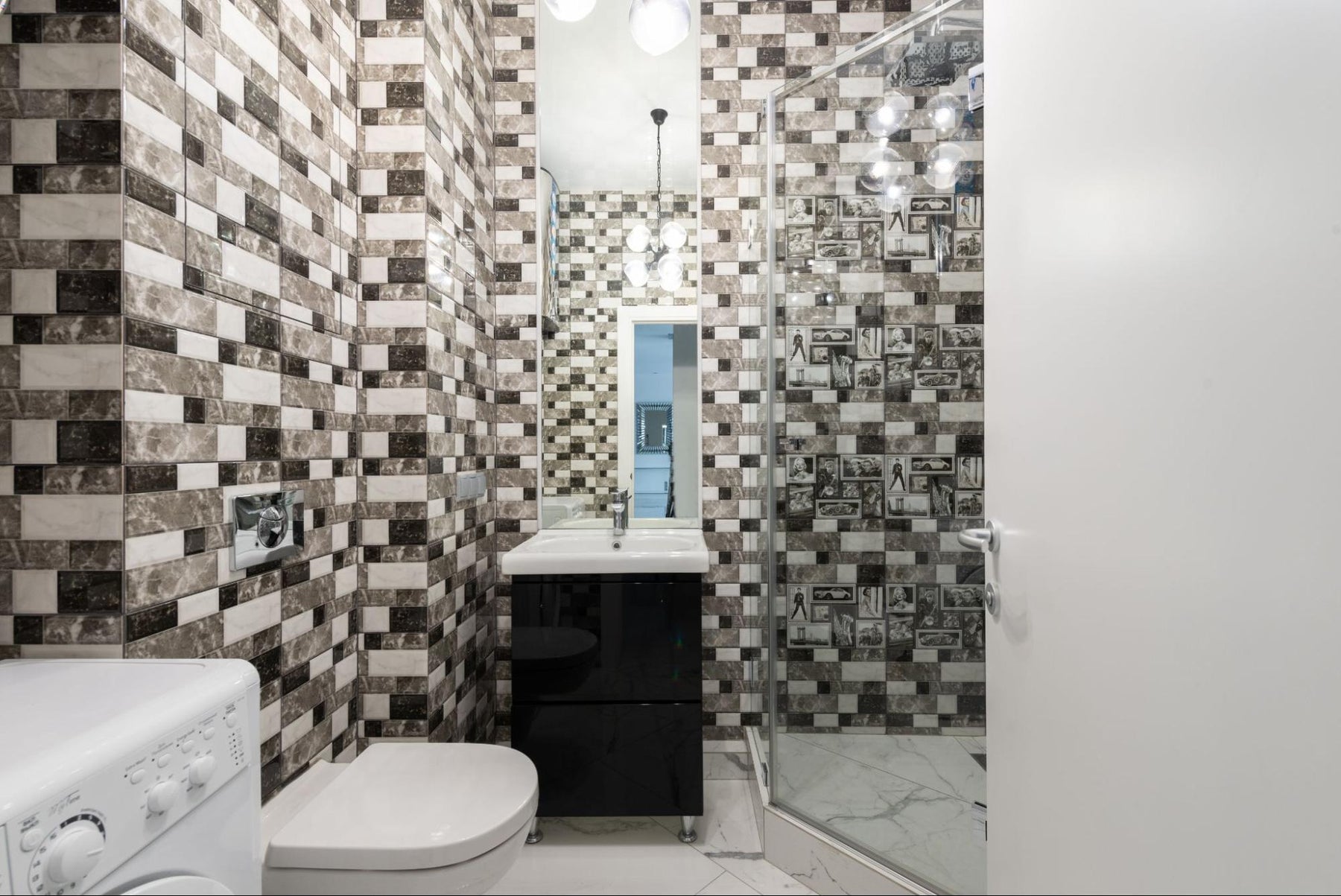 Stylish Pedestal Bathroom Vanity Cabinet for Small Bathrooms
Small bathrooms can be more efficient, given the right storage, lighting, and other essential bathroom furniture. A small pedestal bathroom vanity cabinet provides storage and a surface for your small sink. A bathroom space without all the clutter of your bathing needs can significantly alter how you satisfy your shower pleasures. 
Pedestal vanity cabinets can fit well in small spaces or bathroom corners. Bathroom storage also keeps your extra tissues pristine and your shampoos and conditioners dry. You also get a small storage space for your towels and rugs. So, if you are thinking about revamping your small bathroom, 24-inch bathroom storage is a perfect size. Here are our top picks from our bathroom cabinet collection:
Small Console Cabinet for Bathrooms
A Luxe 24-Inch Bathroom Storage Cabinet
Beautifully colored with a luxe midnight blue palette with accents of polished gold hardware, this posh bathroom cabinet will elevate your simple space with a little something flashy and attractive. A smooth white ceramic sink adds a charming touch while providing you with integral functions for your everyday bathing experience. It comes with two spacious cabinets that can house your towels, tissues, and other bathroom needs. This opulent bathroom storage is decorated with slick contemporary lines that create flattering silhouettes.
A Rustic Tropical 24" Bathroom Vanity
Decorated with natural rattan solihiya drawers and a distressed faux wood finish, this farmhouse-styled small bathroom storage exudes refined wooden grain details and chrome finish accent hardware. It comes with a white ceramic sink with a center set faucet for your comfort. It will fit well around tropical-inspired bathrooms decorated with indoor air-purifying plants. The block, tapered wooden legs create a distinctive classic touch. Its coastal aesthetics will add an easy, breezy ambiance to your small bathroom.
A Simple Open-Shelf 24" Bathroom Vanity Cabinet
Crafted with sheer simplicity and defined straight edges, this modern Mid-century bathroom storage cabinet will make the perfect storage. The open shelves allow you to access your bathroom essentials easily. You can incorporate rattan baskets or wooden storage to keep everything organized and neat. This open-shelf storage cabinet has a flawless veneer that will render a simple yet sophisticated appeal. A streamlined design constructed with durable materials and versatile top-coat to protect the wood and the surface crisp.
A Scandinavian 24" Bathroom Vanity Cabinet
Embellished with satin-like white drawer doors and reddish-brown wood, this Nordic bathroom storage is an easy bathroom piece to incorporate into any bathroom style. The bent-steel vintage-styled metal hairpin legs adds a definitive figure while ensuring durability and resistance to constant moisture. The large storage area provides ample space for your bathroom essentials. The cutaway drawers deliver an easy open and close feature to add a more simplistic function.
A Modern Mid-Century 18" Bathroom Vanity
Flaunting a celebrated Mid-century style, this bathroom storage has a silk-stocking appeal with a touch of modern tones. The sharp, tapered wooden legs, along with its luscious dark wood base and elegant white polished door, render notable classic elegance. The black ceramic basin adds an opulent facade while having the ability to hide wear and tears. The soft-closed hinge door is incorporated for a clean and crisp veneer and easily open and close feature. The glistening chrome hardware adds interest to its overall look.
Modern Farmhouse 24" Bathroom Vanity
Designed with crisp edges and chic, streamlined details, this modern farmhouse bathroom storage is simply a delight. It comes with a polished white ceramic basin and an exquisite silken surface. It comes with two L-shaped handle pulls and soft-hinge doors; your bathroom experience will become more efficient and comfortable. It is a perfect addition to small bathrooms that need a space for towels, shampoos, and other bathroom essentials. 
Small bathrooms need not be cluttered and almost dysfunctional. Small storage can significantly alter the way you treat your small bathroom. With a few adjustments here and there and fitting small storage, you can have the best time and pleasurable shower experience. It is also recommended to display a hanging plant that can help you purify the air. It is a common problem with small bathrooms that air-purifying plants can resolve. Lastly, a tinge of decorative lighting can remake your nightly self-care routines. 
Bohemian Home Decor offers an array of bathroom storage for all types of bathrooms. We curate large stand-alone cabinets to small wall-mount storage cabinets. We provide a range of bathroom cabinet styles to offer more options as you browse our trendy, timeless bathroom cabinet collection.
Bohemian Home Decor is an online furniture shop. We provide one-on-one customer service care to ensure every customer we serve is satisfied and happy with their orders. Our bathroom furniture collection ranges from admirable modern Mid-century styles to crisp, Scandinavian appeal and charming, modern Farmhouse designs. We have bathroom storage cabinets for large luxurious bathrooms to lovely country-inspired tiny bathroom spaces.