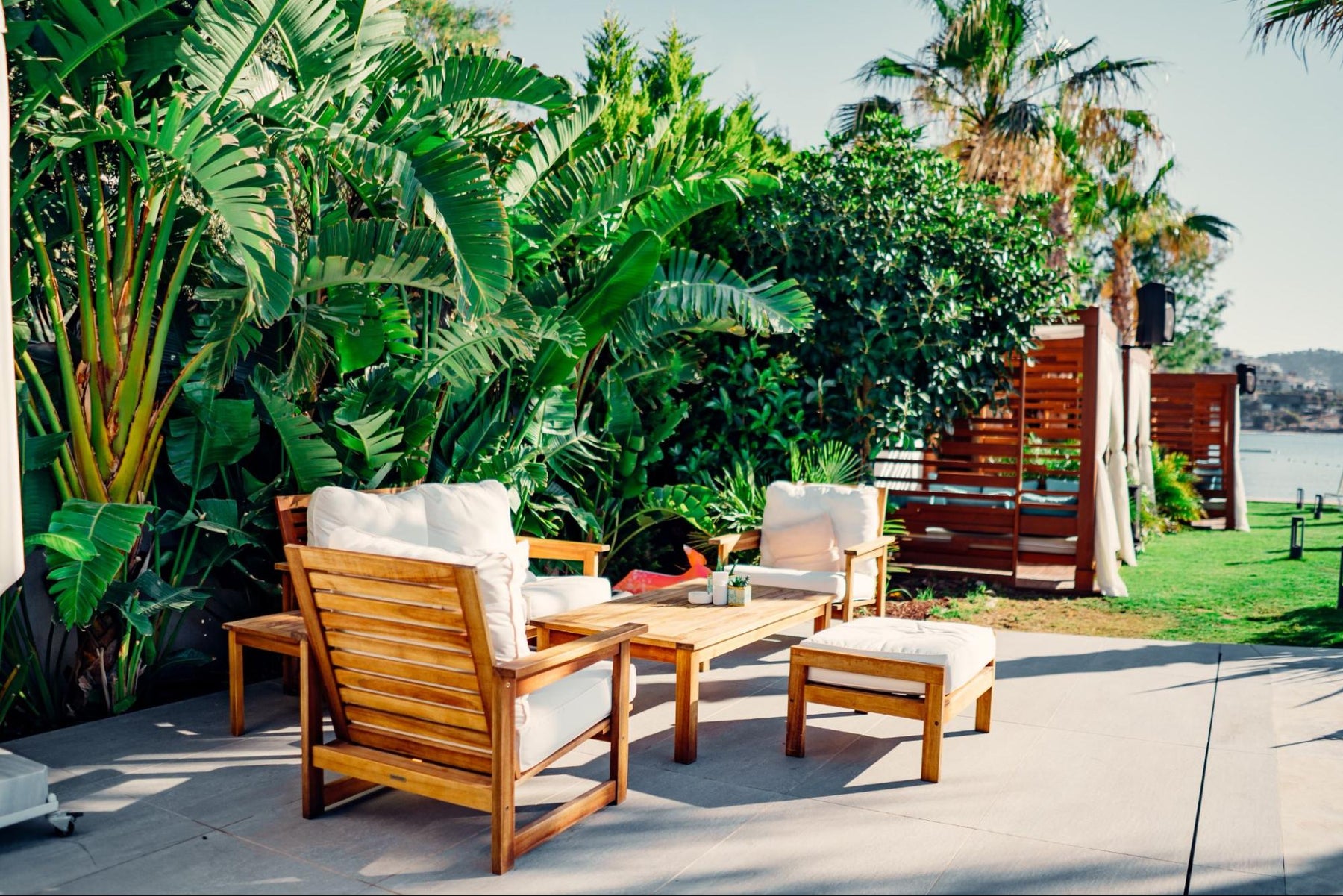 Rustic Coastal Outdoor Coffee Tables Ideal for Spring
Spring is a wonderful time of the year, full of new life and beauty. The days become warmer and longer, flowers bloom, and animals come out of hibernation. It's a season of renewal, growth, and a reminder that life is ever-changing and evolving. Spring is a time to enjoy the outdoors, take in the fresh air, and bask in the sun's warmth. Whether you're planting a garden, walking, or just enjoying the view, spring is a great time to get out and explore the world around you. It is the best time of the year to enjoy a cold drink with your family in your backyard. All you need is a collection of outdoor furniture and a good mood.
Rustic tropical outdoor coffee tables are generally made of natural materials such as teak, rattan, or bamboo. They often feature a warm, earthy, rustic style with intricate carvings or details. These tables often have a tropical feel with bright colors and bold patterns, and they are perfect for adding a little bit of flair and charm to your outdoor living space. So, if you are looking for outdoor coffee tables that exhibit the appeal of rustic style and coastal elements, here is our outdoor coffee table collection:
Outdoor Coffee Table for Your Patio
Marina Outdoor Patio Teak Rectangle Coffee Table
This rectangular teak outdoor coffee table is perfect for any outdoor living space. It is made from solid teak wood with a smooth finish and a natural, rich brown color. Its flat rectangular top and four sturdy legs offer plenty of support. The table is designed to be durable and weather-resistant to withstand all kinds of outdoor conditions. It has a spacious surface perfect for displaying snacks and drinks and is also great for family game nights. With its classic look, this teak outdoor coffee table will look great in any backyard, patio, or garden.
Upland Outdoor Patio Wood Coffee Table
This low-profile rectangular teak outdoor coffee table is perfect for any outdoor setting. It has a rich golden brown finish that complements the teak wood's natural grain. The table has a simple design, with a flat top and thin legs, giving it a sleek and modern look. Its low profile makes it perfect for a cozy outdoor seating area, allowing you to rest your feet while relaxing. It's also durable, weather-resistant, and made to last for years.
Brisbane Teak Wood Outdoor Patio Coffee Table
The Brisbane low-profile round teak outdoor coffee table is perfect for adding a touch of class and sophistication to any outdoor living space. The round table top is crafted from high-quality teak wood, known for its durability and weather resistance. It features a subtle yet elegant profile, with four sleek legs that taper slightly from the top to the ground. The top is finished with a deep, rich brown hue that perfectly complements the natural tones of nature. This outdoor coffee table will provide you and your guests with a comfortable and stylish place to relax and enjoy the outdoors.
Marina Outdoor Patio Teak Round Coffee Table
This round teak outdoor coffee table is truly a sight to behold. It features a beautifully crafted yellowish-brown hue, showcasing its natural wood grain. The top surface is smooth and has a slight sheen, perfect for setting down a cup of coffee or a book. The sides have a slatted design, providing a unique look that is both stylish and functional. The sturdy teak legs are rounded and painted in a matching yellowish-brown hue, giving the table a cohesive and sophisticated look. This round teak outdoor coffee table will surely be a centerpiece in any outdoor living space!
Stance Outdoor Patio Aluminum Coffee Table
This rectangular outdoor coffee table is made of industrial-style wood and a black aluminum frame. It has a minimalistic design with a clean and modern look, perfect for any outdoor space. The wood top is finished in a yellowish-brown hue, and the frame is made of black aluminum with a matte finish. The table is sturdy and durable, making it a great outdoor piece. It has a spacious top, perfect for hosting drinks, snacks, and more. It's the perfect addition to any outdoor area, providing a functional and stylish aesthetic.
The best material for an outdoor coffee table will depend on the specific needs of your space. For durability and weather resistance, popular materials include teak, wicker, metal, and stone. Teak is naturally weather-resistant, while wicker is lightweight and easily moved around. Metal tables are typically the most durable, while stone tables are ideal for creating a luxurious look. 
Bohemian Home Decor, based in Parsippany, New Jersey, has a wide collection of outdoor coffee tables with the ideal materials to withstand the ever-changing weather and harsh outdoor elements. We have outdoor coffee tables made with top-quality teak, exquisite synthetic rattan, and polished aluminum. Our outdoor furniture collection is handpicked to present cohesive modern tropical designs that can make it easy for you to mix and match. Browsing our outdoor furniture collection will make you want to indulge in a drink or two in your backyard on a sunny, breezy, lively afternoon.