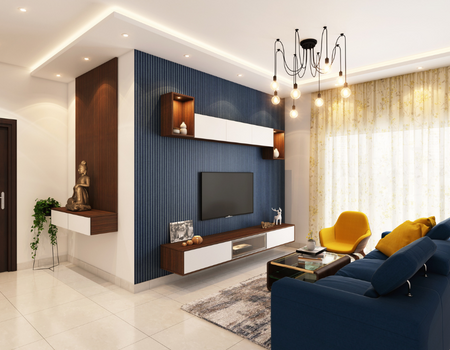 Modern Chandeliers Designed To Impress & Stand Out in Any Room
Chandeliers add glamor to your space. It is an accessory for a plain, bland ceiling. It adds a luscious glow and a layer of luxurious hues around your space. When picking a chandelier, it is crucial that it matches other design elements in your home, such as your modern armchairs, lounge chairs, and modern Mid-century chairs. 
Chandeliers can be a statement piece if you want to embellish your space using intriguing layers of lighting. If you are looking for the ideal piece of chandelier for your home, here are our top modern chandelier picks:
Modern Chandeliers That Will Glow Up Your Evening
The Austere Tessie Chandelier 
The Tessie Chandelier exhibits a sharp facade with a twist of the avant-garde figure. It has a unique form that will make a unique statement piece in your space. The polished black base that anchors the supple, white triangular bulbs exudes an impressive balance between austere forms and muted hues. 
The Magnetizing Jonatan Chandelier 
The Jonatan Chandelier will make an impressive lighting decoration in your extravagant living space. It flaunts a rich, luscious surface that reflects a dramatic visual display to your ceiling. Each globe emits a warm and luxurious illumination that layers your lighting design with a soft, heart-warming atmosphere. 
The Jonatan Chandelier boasts a beautiful symmetry that is captivating. It has an alluring facade that will light up your ceiling with an opulent glow. If you want a relaxing ambiance every night, the Jonatan Chandelier will wrap your space with exquisite ambient lighting. It will highlight the distinctive features of your modern Mid-century chairs in a lustrous, luxurious manner.
The Simplified 3-Globe Bubble Chandelier
The 3-Globe Bubble Chandelier has a simple abstract facade. It is embellished with a clear glass globe that emits warm white lighting that will add a purposeful function to your space. It also comes in smokey glass globes that display a smooth reflective surface that illuminates the space with fiery, warm lighting. 
The 3-Globe Bubble Chandelier is a modern piece of lighting decoration that can blend beautifully into any room design. It is a flexible yet stylish piece that can layer your space with balance and harmony. It will make the perfect lighting to match your modern Mid-century chairs and lounge chairs.
The Posh Kate Chandelier
The Kate Chandelier is breathtaking. It flaunts a magnetizing appeal that will make a perfect conversation starter. It will decorate your ceiling with graceful gold details. The slick and luxurious figure it highlights will bring a sense of opulence to your posh milieu. 

The Kate Chandelier is the perfect lighting decor for your dining space. It will add a twist of a five-star restaurant ambiance while providing a luscious, supple illumination. The Kate Chandelier is an exquisite piece of ceiling accessory that will render your home with a high-end worldly style.
The Modern-Chic Peach Chandelier
The Peach Chandelier is an absolute delight. It is anchored with a satin-finish chrome base and clear glass globes. It exudes an elegance that will make an impressive lighting decoration for your living room. 
The Peach Chandelier emits bleak, warm white lighting that will glow up your evening mood. It will envelop your space with functional lighting perfect for evening get-togethers in your humble abode. 
Chandeliers allure every eye that gazes. It has a tantalizing appeal that will add a layer of luscious illumination to your space. Bohemian Home Decor curates stylish chandeliers all over the world. We handpick every piece to add a unique touch to your interior lighting. 
Bohemian Home Decor is an online furniture store that curates stylish, versatile, and functional interior decor, furniture, and lighting pieces. Our boutique-like customer service provides a satisfactory experience for every purchase.
Bohemian Home Decor gives a comfortable and secure online shopping experience. Our online furniture store is armed with advanced digital technology that allows our customers to explore, purchase, and make a transaction with ease and unequivocal security.