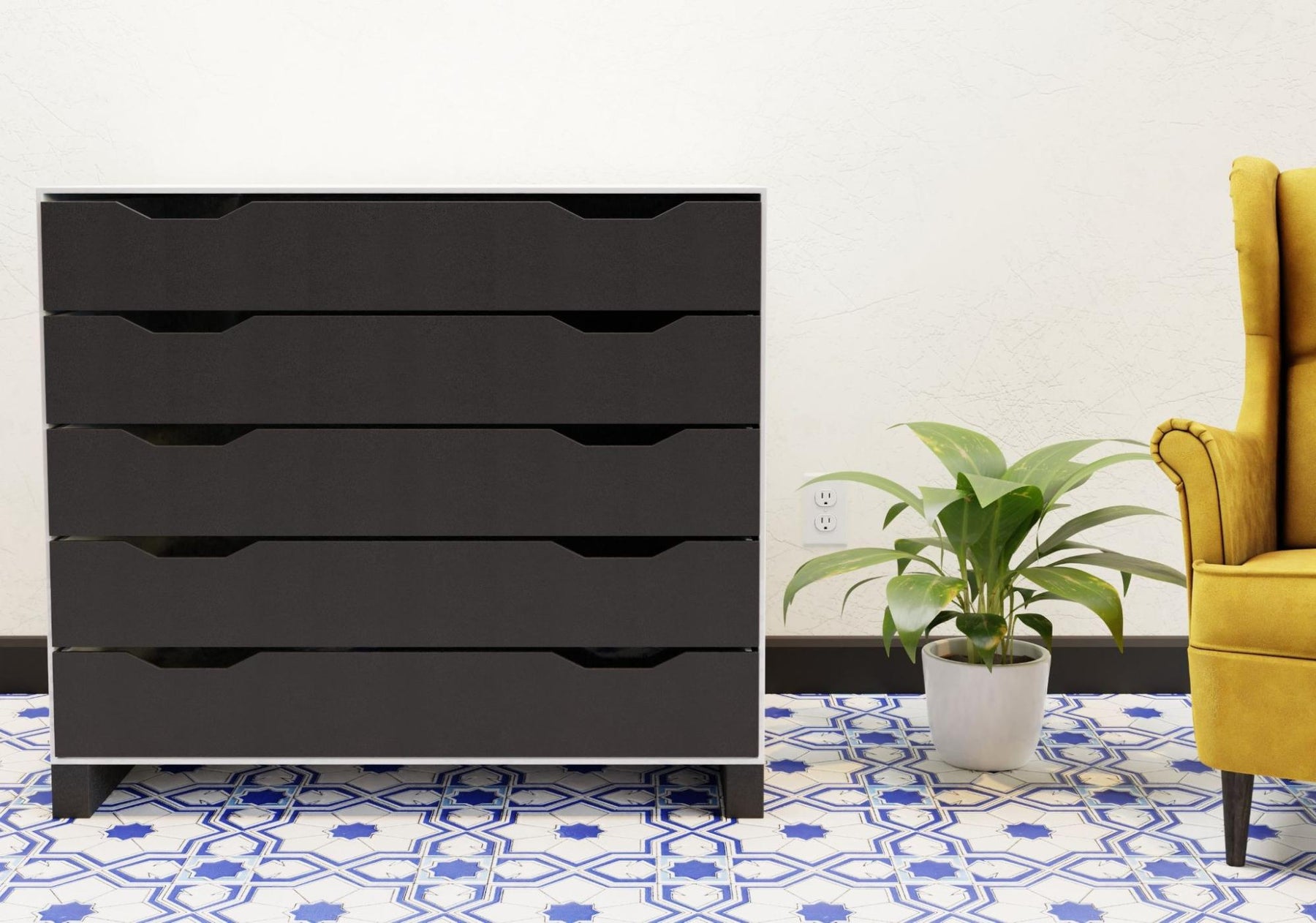 How To Instantly Upgrade and Increase Your Bedroom Storage?
Dresser drawers are essential furniture that provides storage space for clothing, bedding, and other items. They are available in various styles, sizes, and depths, making them perfect for any room in your home. Dresser drawers are also great for organizing and tidying your belongings. They can also store valuables, jewelry, and documents and ensure they remain secure. Dresser drawers are also a great way to add additional storage space to any room.
There are a few tricks that can help you maximize your bedroom dresser. For one,  drawer dividers are an excellent way to use all the available space in a drawer. They can store accessories, jewelry, or larger items like socks and underwear, keeping everything neat and organized. Moreover, stackable bins are a great way to add extra storage to a dresser drawer. They can also store things like books, toys, and other small items. Additionally, shelf risers are a great way to increase the storage capacity of a dresser drawer. They are also useful for storing taller items like lotion bottles and perfume.
If you are looking for the perfect chest dresser to upgrade and increase your bedroom storage, here are our top picks from our stylish drawer dresser collection:
Spacious Dresser Drawer That Will Add Storage Space to Your Bedroom
The Classic Oriental Soma 8-Drawer Dresser
The Soma 8-drawer dresser is a contemporary piece with a classic twist. It features a wood grain veneer finish in a dark, rich, warm brown hue, with woven rattan accents on the drawers and top, adding a textural touch. This chest dresser has metal handles and stands on four angled matching legs. It will make perfect storage for any bedroom or living space, bringing a cozy and stylish feel. The organic appeal of woven rattan will add a touch of natural appeal to your bed space. 
The Elegant Dakota Dresser
This 6-drawer dresser is a sight to behold. It is painted in a crisp white hue, which is complemented by horizontal line details. The top of the chest dresser has a unique, eye-catching shape. Gold metal handles adorn each drawer, adding a touch of luxury. The legs of the dresser drawer are black and tapered for a modern look. This 6 drawer dresser will be the posh addition to any bedroom, providing ample storage for all your clothing and accessories.
Match it with:
Beaumont End Table
This sophisticated side table features a round white tabletop with a sleek black metal base and a light wood accent. The round tabletop is decorated with durable material and polished flawless white, giving it an upscale and modern look. The legs are made of strong and durable black metal, giving the table an industrial look. The light wood accent at the base of the table adds a touch of warmth to the piece. The table is the perfect match for Dakota Dresser.
The Mid-Century Dylan Dresser
The Dylan 6-drawer dresser has a stunning navy blue hue that creates a bold yet stylish statement. It is designed with a clean line style, featuring a dark rich wood frame that gives it a modern mid-century look. The chest dresser has smooth gliding drawers that open and close with ease. The style is streamlined with vertical lines, adding a contemporary touch to the piece. This 6-drawer dresser can easily fit into any room, giving it a timeless look and feel while providing ample storage for your belongings. 
Match it with:
Blaze Triangle Wood Side Table
This mid-century side table is the immaculate match for the Dylan Dresser. It features a unique cross base with four slim, tapered legs that come together at the center to create a cross shape. The legs are solid wood and stained in a warm walnut finish. The triangular table top is crafted from walnut and oak veneers, contrasting the dark base beautifully. The top edges are slightly beveled, and the surface is finished with a glossy lacquer for a smooth and elegant look. This table is sure to be a conversation starter and add a touch of mid-century style to any living space.
The Contemporary Mid-Century Render 6-Drawer Dresser
This 6-drawer dresser is made of a dark rich wood veneer, giving it a sophisticated, luxurious facade. The contemporary design features bold horizontal lines that protrude, adding an eye-catching element to the minimalist aesthetic. The absence of metal handles adds subtle cohesion to the deep wood tones of this chest dresser. The spacious dresser provides ample storage for clothes, linens, and other items. 
Match it with:
Intersect Nesting Tables
This mid-century nesting side table is the ideal pair for Render Dresser Drawer. The top is made from a silken material in a round shape, and the legs are made from dark, rich wood and tapered down to create a sleek look. The nesting design allows you to store items away easily, and the mid-century style lends a timeless element to the decor. The cool, smooth surface of the table is perfect for displaying items, and the dark wood legs add a touch of elegance. This side table is sure to be a conversation piece for any home.
The Modern Merritt Dresser
This 6-drawer dresser is made from black rubberwood with beautiful wood grain accents. The dresser highlights a stunning mirror trim running along the facade of the two top drawers, with a beveled edge. The drawers feature crisp, edgy lines with easy open and close glides. The chest dresser has a contemporary, modern look with sleek lines and a beautiful polished finish. 
The Chic-Nordic Transmit 60" Dresser
The Nordic-chic Transmit 6-drawer dresser is the perfect modern addition to any bedroom. Its dark wood frame is offset by polished white drawers and matching white metal handles, giving it a sleek and sophisticated look. The drawers are designed to maximize storage space, with each carrying enough room for all of your clothing, blankets, and other items. The metal handles make opening and closing the chest drawers easy, and the white finish gives it a crisp and clean look. This dresser will surely be your room's centerpiece, adding a touch of modern style and elegance.
The Sophisticated Render 5-Drawer Dresser Chest
The modern Mid-century 5-drawer dresser is a practical addition to any room. It boasts a dark wood finish with intricate wood grain details for added texture and depth. Its horizontal protruding lines give it a modern, minimalist look, while its tapered legs complete it. The dresser offers plenty of storage with five spacious drawers, perfect for storing clothes, linens, and other bedroom items. Its sleek design and timeless style make it a great piece that will last for years to come.
The Elegant Scandinavian Georgia Wood Dresser
This Scandinavian chic 6-drawer dresser is a design to uphold. It is constructed of light gray wood with intricate wood grain details, giving it a unique and stylish appeal. The chest dresser is adorned with horizontal silver metal handles, adding a modern touch. The top has a sleek, minimalist design with a flat surface perfect for displaying books, photos, or other decorations. The drawers slide open and shut easily, making it easy to access whatever you need. It is the perfect piece of furniture to bring a touch of Scandinavian chic to any room.
Match it with:
Zee Angular Mirror Accent Table
This Art Deco-style side table is made to be an elegant statement piece. It features a square table top in a beautiful silver finish with a geometric silver-gray metal base. The table has a unique design, with the metal base in an interesting pattern of intersecting triangles and circles. The table is perfect for any room, adding a touch of classic glamour to the space. The silver finish adds an upscale feel, while the geometric pattern adds a modern twist. 
The Minimalist Nordic Noak Mid-Century Modern Dresser 
This Scandinavian chic 5-drawer dresser is crafted from dark rich, intricate wood grain, giving it a luxurious and high-end look. The drawers have sleek matte black handles that provide a modern touch and are lined with soft felt to protect delicate items. The crisp white frame and legs contrast beautifully with the deep wood tones, creating a striking yet timeless piece that adds sophistication to any room. The drawers provide ample storage space, making it the perfect piece for any bedroom.
The Noak White Walnut Mid-Century Modern Dresser 
This Nordic 6-drawer dresser is an elegant and sophisticated piece of furniture. It is made from flawless dark rich wood with intricate grain drawers that give it an extra touch of sophistication. The clean white frame of the dresser contrasts beautifully with the dark wood and makes for a striking visual. The drawers are fitted with round matte black metal handles, which add to the sleek and modern aesthetic of the piece. The drawers are spacious enough to store plenty of items, and the chest dresser is sure to be an iconic, timeless piece of furniture in any home.
The Modern Oriental Soma 5-Drawer Chest
This sophisticated Oriental-style five-drawer dresser is crafted from polished dark wood with intricate grain patterns. Its drawers are detailed with woven rattan accents, and each is finished with polished gold brass round metal handles. The chest dresser stands on four carved wooden legs, and the top is adorned with a thin border of hand-carved detailing. The drawers are enclosed by two side panels that feature detailed carvings, and they open with ease due to the quality of craftsmanship. The dresser drawer has a rich, timeless look that impresses and is a statement piece in any room.
When picking the perfect drawer dresser, measure the space available in your bedroom for the dresser. This will help you determine the size and shape of the dresser that will best fit the area. Also, decide on a style of the dresser that fits your bedroom's decor. For a modern look, opt for a dresser with sleek, clean lines. For a more traditional look, find a dresser with more ornate details. Then, consider the type of drawers you need. If you have a lot of clothing and accessories, look for a dresser with plenty of drawers and ample storage space. You can opt for a dresser with fewer drawers if you don't need as much storage space. 
Bohemian Home Decor has a dresser drawer collection in various styles. We have pieces from classic Mid-century design, elegant Nordic-chic styles, and sophisticated modern Oriental aesthetics. Our dresser drawer collection is durably constructed for lastingness and to uphold a timeless appeal. Bohemian Home Decor, New Jersey, is an online furniture shop that will provide you with every storage space you need to clear the clutter of your bedroom and add a sense of iconic, practical style to your personal sanctuary.