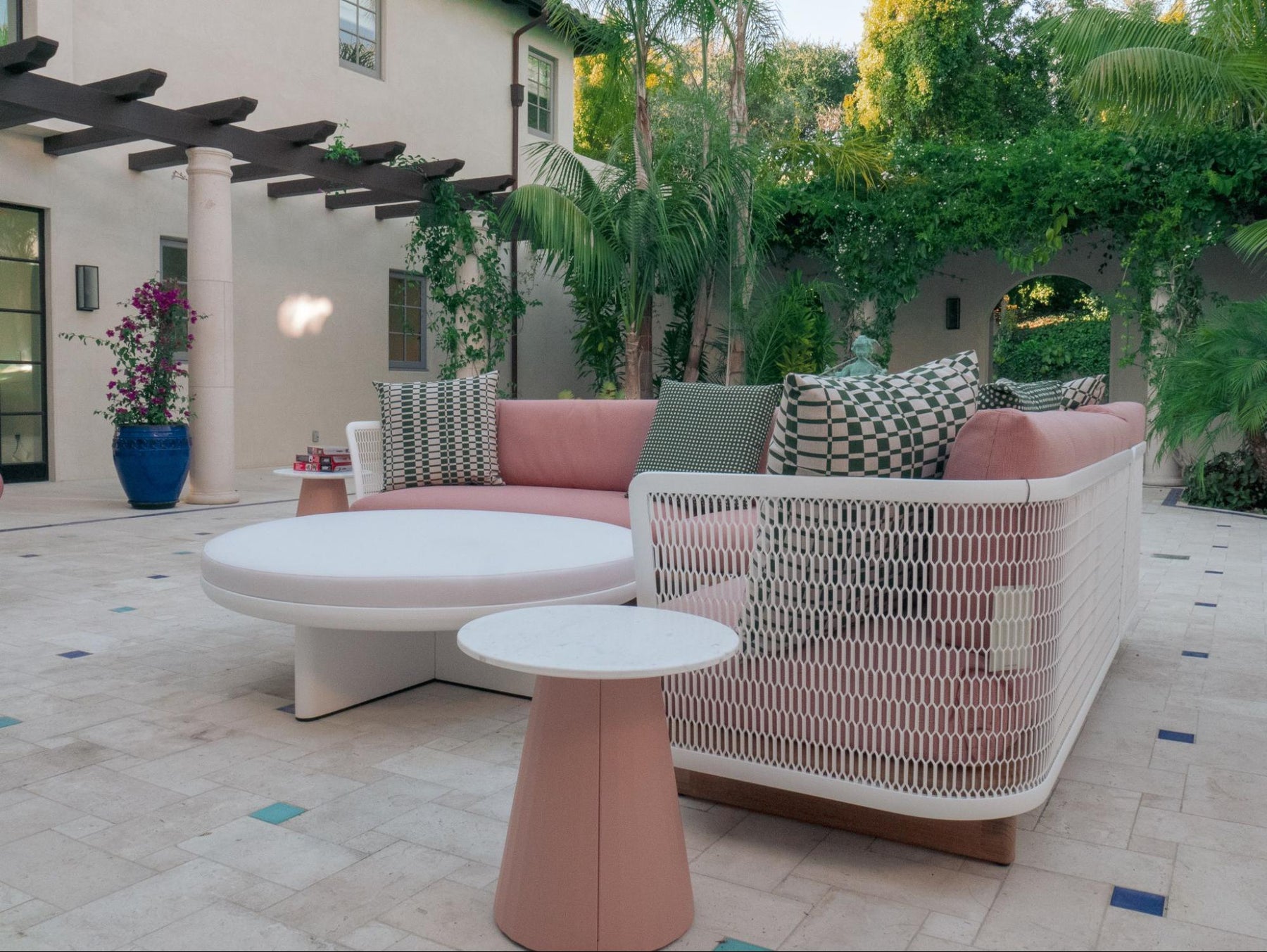 How To Design Your Patio?
A patio is an outdoor living space typically used for dining or relaxation. It is usually paved and often adjoined to a house or other building. Patios are a great way to extend the usable space of your home and provide a space for outdoor entertainment, relaxation, and family gatherings.
A patio is one way to blend your home with nature. It adds a charming facade to your house while providing you with a peaceful space to relax and spend a quiet afternoon among your plants. When designing your patio, furniture and decor materials are crucial. So, if you are planning on revamping your outdoors, here are some tips:
Patio Design Guide
Choose a Patio Layout 
Depending on the size and shape of your outdoor space, you can choose from various patio layouts. Before choosing a patio layout, you must first identify the space you have to work with. Measure the area and consider any physical barriers and boundary lines, such as fences or walls. What do you plan to use the patio for? 
To entertain guests, you may want to create a more social patio layout with plenty of seating space. If you plan to relax and enjoy your outdoor space, a more intimate layout might be more appropriate.
Plan Your Patio's Features 
Consider features such as walkways, seating, fire pits, lighting, and landscaping. Decide how much furniture you want and where you want to place it. Determine if you need additional features, such as fire pits or lighting.
Here are some of the most common patio features you can incorporate:
Fire pits or fireplaces

Outdoor kitchens 

Dining areas 

Seating areas

 

Pergolas or shade structures 

Patio lighting 

Built-in seating 

Outdoor bars 

Outdoor rugs 
Select the Flooring 
Consider the style, durability, and cost of patio flooring materials such as brick, stone, concrete, flagstone, or wood. Choose a flooring material that can withstand the elements in the area where you live. For example, the stone is a great choice for hot climates, while wood or composite decking is better suited for cooler climates.
Choose the Right Furniture 
Choose furniture that is comfortable, stylish, and weather-resistant. Consider materials such as wrought iron, aluminum, teak, or wicker. 
Before you start shopping for patio furniture, take a look at your patio or deck and measure the available space. This will help you determine the size and shape of the furniture that will work best for your patio. If you live in a wet climate or area prone to strong winds, choose weather-resistant furniture and cushions that won't fade or mildew. 
Incorporate Landscaping 
Add greenery to your patio with potted plants, shrubs, trees, and vines. Consider adding a water feature or a garden bed. Adding a garden wall to your patio can create a beautiful focal point while also creating a sense of privacy. You can choose from a variety of materials, such as wood, stone, metal, or even plastic, to create the perfect garden wall for your patio. 
Plant containers are a great way to add greenery to your patio without taking up too much space. You can opt for colorful pots or hanging baskets to add a touch of color to your patio. Pergolas are a great way to add a sense of style and sophistication to your patio. Plus, they're great for creating a shady spot to relax and enjoy the outdoors.
Install Lighting 
Add lighting to your patio to create an atmosphere and enhance your outdoor space. Consider using solar lights, string lights, torches, or outdoor lamps. The size of your patio will determine the size and type of lighting you should choose. 
Smaller patios may only need a few small lights, while larger ones may require more powerful lighting. You want to make sure you choose lighting that is bright enough to light up your patio area but not too bright to cause glare.
Add Accessories 
Accessories such as outdoor rugs, pillows, and artwork can add charm and personality to your patio. Choose outdoor fabrics that are designed to withstand the elements. Sunbrella fabrics are a popular choice, as they resist fading and mildew. 
Pick colors and patterns that will complement your patio's design. Add cushions and pillows for extra comfort. Look for colors and patterns that match the palettes of your furniture and have a durability rating of at least four years. Use outdoor boho rugs to add texture and color to your patio. Choose a rug that is designed for outdoor use, and that can withstand the elements.
Bohemian Home Decor, is an online shop that curates adequate outdoor furniture. Our outdoor chair collection embodies weather-resilient materials, chic, modern designs, and crisp, natural aesthetics. Browsing our outdoor chair collection will delight you with sleek, simple styles that are made to blend with nature easily. Bohemian Home Decor, New Jersey, is your design partner for all your interior furniture essentials and decor.