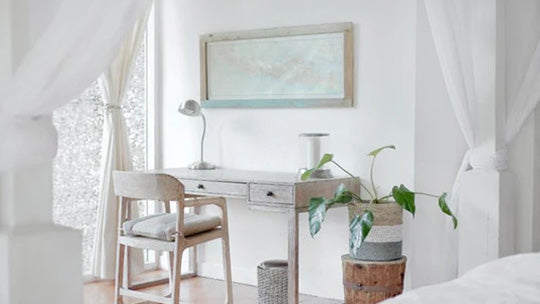 How To Design a Rustic Home Office Space?
Imagine starting your regular work day in a space that induces a relaxing ambiance while sprucing up your mood and stimulates your brain, your productivity can increase. A rustic home office design exhibits a perfect balance of classy with a touch of raw appeal. Rustic aesthetics display a simple yet functional design. 
If you are planning on revamping your home office space and turning it into a rustic home office abode, here are a few tips to get you started:
Rustic Home Office Design Tips
Pick The Right Desk  
A wooden Writing Desk Solid Mango Wood with ample storage is charming in the facade and purposeful. It gives you more room for organizing without compromising style. The chic texture of the wood elevates the room with absolute rustic charisma. 
The polished surface, on the other hand, can withstand daily wear and tear, bringing ease to your day-to-day work routine. Hence, picking the right desk is not just all about aesthetics, rather, functions are equally important too. 
Seek-Out the Perfect Chair
The ergonomics of your working chair provide outright comfort while keeping you away from possible back pains. Armchairs and accent chairs with wooden legs will be cohesive to your wooden writing desk. It will keep the look of your space harmonious and visually inviting. 
Our Eiffel Armchair is chic and made with durable materials. Its beautiful figure and classic appeal will add a touch of rustic elegance into your space while providing you the comfort and convenience to get through a long day's work. 
Liven it Up with Some Luscious Plants
Plants are known to boost a mood and clean the air. Spicing up your space with some luscious greens will uplift the room with some natural essence while keeping your air circulation pristine. 
You can also play around with the design of your pots to give a taste of your unique character or embellish it with some woven baskets. Either way, your rustic home office goals will be achieved! 
Brighten it Up with a Task Table Lamp
Task lamps are energy-efficient for they can provide enough light around your workspace without turning on every bulb around the room. Apart from upholding its purpose of brightening up your working area, it also adds an essential amenity to your home office design. 
The Paulina Task Table Lamp exudes simplicity dazzled with elegance. The gold polished surface of the stand, along with its cone-shaped shade, exhibits a classic design but is crafted with modern materials. 
Paint Your Accent Wall with Spirited Palettes
Colors induce certain emotions. It can alter one's spirit and transform a space. Cool colors are lively and can bring in a good state of mind. On the other hand, warm colors will create a warm, cozy atmosphere. 
An accent wall with a palette of your choice will exhibit your personality. It will be something you can do to customize your rustic home office to your own liking. Although white is an ideal and safe color for rustic designs, picking a corner for an accent wall will add more engaging elements to the space. Moreover, it will highlight your handpicked modern Mid-century chairs most exquisitely. 
Embellish it with Rustic Decors
Decorating your empty shelves and walls with sculptures and paintings will create a more stimulating space. It gives your eyes something to stare at during your break time. It can also help refresh your mind and vitalize your mood. 
Rustic decors such as wooden frames, some encouraging quotes, an area rug, and ceramic vases are just a few you can add to give your space a more delightful facade. You can pick pieces that display your unique character to make it even more personalized. 
Every element in a workspace is contrived to increase productivity, stimulate the brain, and relax the mood. A rustic home office space is balanced with natural elements and a modern style. It exhibits a breezy ambiance with a touch of pastoral posh. 
Rustic home office designs become even more efficient when designed with multi-functional modern Mid-century chairs. Adding some lavishing potted plants along with some energetic colors will boost your cognitive functions, making you more productive. 
At the end of the day, Bohemian Home Décor designing a home office space aims to help with your efficiency at work. Hence, your desk, chair, lighting, and interior accessories are all vital in creating a tasteful space with purpose.