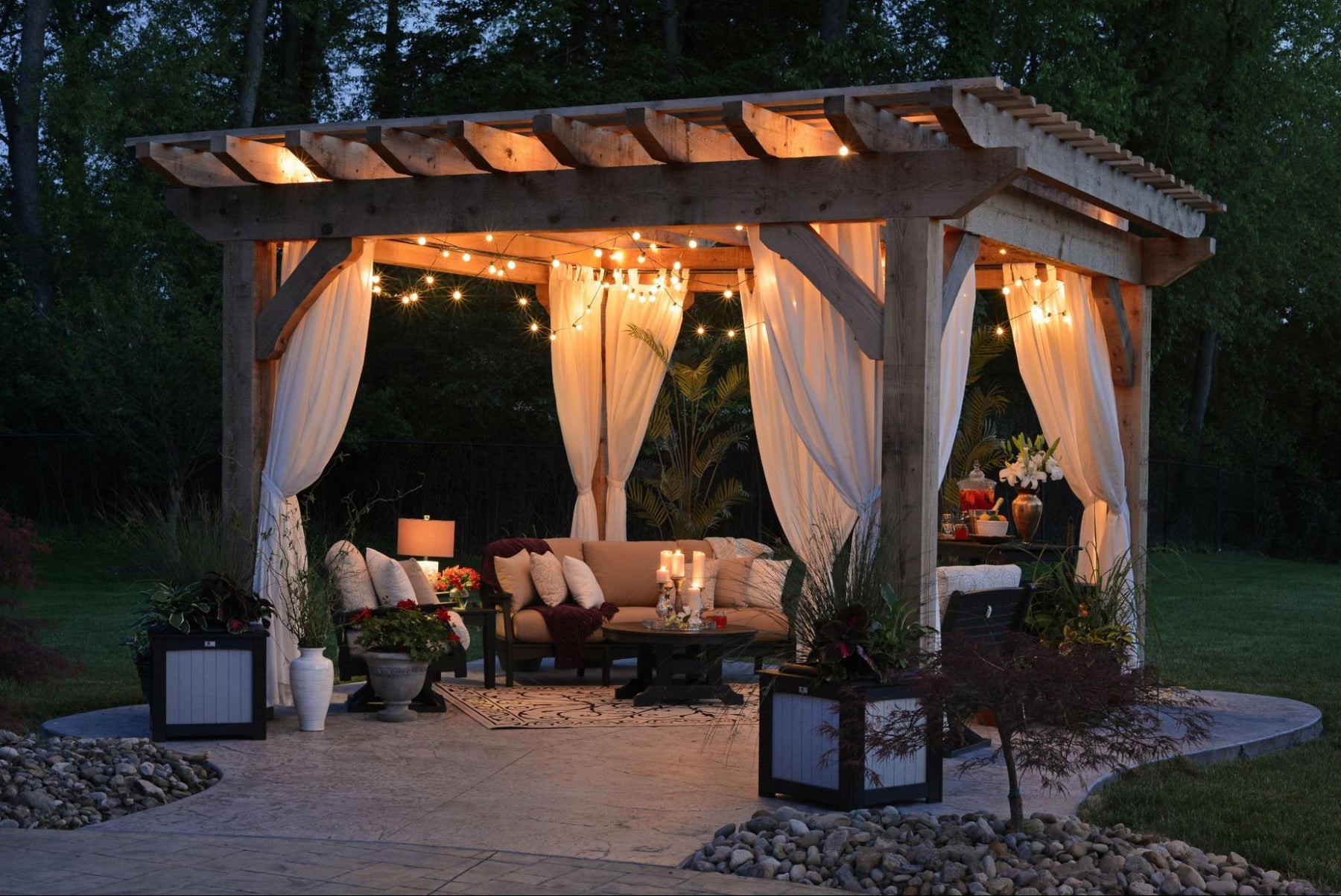 How to Create an Urban Tropical-Luxe Outdoor Space?
Investing in high-quality furniture is essential to creating an inviting and comfortable outdoor living space. Quality furniture ensures that the pieces can withstand the elements and remain durable over time. It also helps to set the tone for the area and create a feeling of luxury. Quality furniture can also enhance the room's aesthetic, creating an inviting atmosphere for guests and families.
The core step to creating a resort-like space in your backyard this summer is to invest in comfortable furniture. Opt for an outdoor table, lawn chairs, loungers, and patio furniture sets to relax and soak in the sun as if you are someplace surrounded by tropical trees and colorful flowers. You can also add accents such as throw pillows and vibrant-colored outdoor rugs to create a cozy atmosphere.
Coastal Metropolitan Outdoor Furniture That Can Bring Resort-Like Luxury to Your Backyard
Crisp and Savvy Outdoor Table
Hatteras Outdoor Table
This eucalyptus wood outdoor table is perfect for al fresco dining or relaxing with guests. It features a solid wood table top and base crafted from durable eucalyptus wood with a subtly orange-brown finish that exudes a classic coastal chic aesthetic. Its sleek rectangular shape is perfect for even the smallest balconies or patios and is an easy fit for any outdoor space. The top and sides are polished to a subtle matte sheen that adds a touch of sophistication, while the four legs are sturdy and reliable. The overall look of the table is balanced and timeless, a perfect addition to a charming farmhouse-style backyard.
Raleigh Aluminum Outdoor Table
This outdoor table is the definition of coastal luxury and minimalism. The aluminum frame is lightweight and robust, immaculately rendered in a pure white hue. A tempered glass top provides the perfect platform for outdoor dining and entertaining. The bluish tint gives the table a unique depth, evoking a sense of serenity and refinement. The sleek lines of the frame perfectly juxtapose the rounded glass, creating the ideal spot for intimate outdoor gatherings and celebrations. Perfect for an elegant outdoor space, this outdoor table exudes clean lines, advanced functionality, and immortal style.
Tropical-Luxe Outdoor Chairs
Zaragoza Dining Chair
Tropical-style outdoor chairs are an eye-catching addition to any outdoor setting. They have intricate sculptural figure, often featuring a unique, modern style. The rattan details in neutral hues provide texture and contrast to the look, while the black metal legs hint at an urban industrial, matte finish. These outdoor chairs are well-suited for any outdoor setting and offer a sturdy, modest foundation.
Cohen Outdoor Dining Chairs
Elegant tropical outdoor chairs have a round seating figure that will catch your attention. It is made of beige synthetic rattan woven for the back and seating, while its four black metal legs provide a sturdy structure and modern finish. The round seating figure not only looks stylish but also offers extra comfort. It's perfect for adding a touch of coastal chic to any outdoor area while delivering a touch of resort-like amenity and style.
Oriental Outdoor Patio Furniture
Blackwell Garden Stool
This beautiful ceramic garden seat has a chic rounded figure with a textured surface. The blue and white color palette complements its sleek lines and modern design. The white finish on the frame is just touched by a pale blue near the seating area, giving it a calming and elegant look. The texture is smooth enough to handle and sits out well against its glossy white exterior. It is perfect for accenting a modern outdoor area or creating an inviting atmosphere in any garden. Whether you place it beneath a blooming bush or among a bed of flowers, this unique outdoor patio furniture is sure to make a glam statement.
Viewscape Outdoor Patio Ash Wood Loveseat
This outdoor patio wooden loveseat features neat, clean edges, creating a streamlined look that fits with classic and modern decor. The wood is crafted with a bold, fiery shade, giving the loveseat a strong and substantial appearance. To balance the warm tones, the seating cushion is comfortably upholstered in a sophisticated gray hue. This outdoor patio furniture will bring a timeless elegance to the patio with a subtle yet stylish look that can create a flexible centerpiece for your deck.
Terrio Accent Lawn Chairs
These outdoor patio powder-coated aluminum accent lawn chairs boast a sleek, contemporary design, perfect for any modern outdoor space. Crafted of quality materials for durability, they feature clean edges with subtle yellow-orange tones that will blend effortlessly with any outdoor décor. The white seating and backrest cushion provide a light, airy texture and offer comfortable seating. With its easy maintenance and weather-resistant materials, these chairs will be sure to add a touch of style to any outdoor patio.
Having an outdoor space for hang-out can enhance the family lifestyle and bond because it gives the family a place they can enjoy together. It can also provide a comfortable environment for more meaningful conversations and quality time to spend with each other. Furthermore, spending time outdoors positively affects mental health, which can help reduce tension and build stronger relationships within the family. With BBQs, swimming pools, jacuzzis, and outdoor games, the outdoor space can become a place for fun activities that bring the family together.
Bohemian Home Decor, NJ, is an online furniture store that curates gilt-edge outdoor furniture to help you create your dream outdoor setting. Our outdoor furniture collection includes your outdoor bar essentials, outdoor dining comfort, and outdoor lounging pleasures. Browse our online outdoor furniture collection and make the most of the beauty of your backyard.