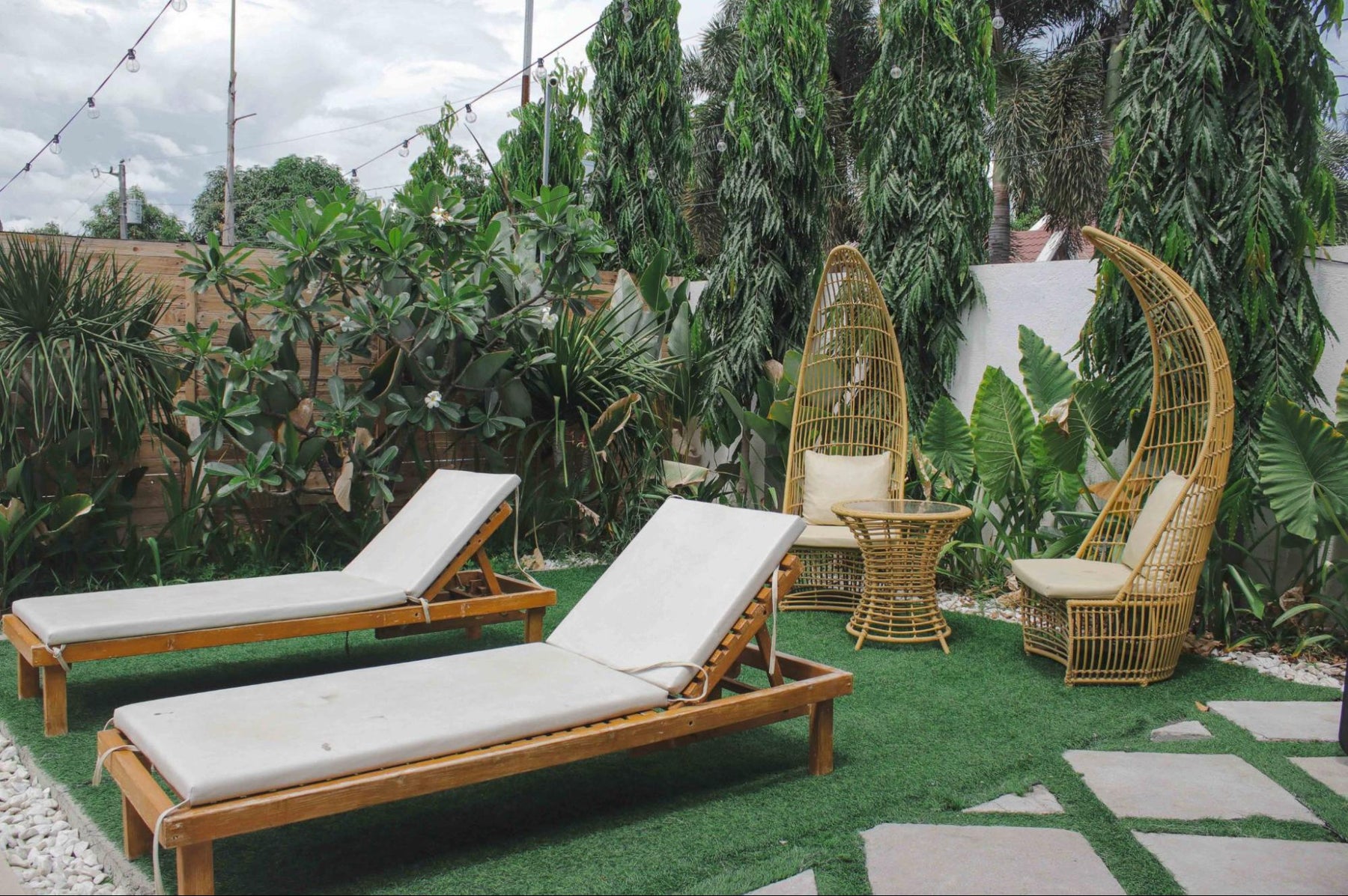 How To Create a Resort-Like Leisure Space in Your Backyard?
Outdoor spaces can improve your lifestyle by providing a great place to relax and enjoy the outdoors. Creating an outdoor living area allows you to enjoy the natural scenery and fresh air while still having all the amenities of your home. Whether you enjoy entertaining, grilling out, or just lounging with a good book, outdoor living spaces provide the perfect retreat from your busy life. 
Outdoor living spaces can also help you connect with your local environment while providing privacy and security. Lastly, outdoor living spaces are a great way to add value to your home and increase curb appeal.
Designing an Outdoor Living Space Tips and Tricks
Invest in a luxurious outdoor seating area:

It's all about creating an inviting atmosphere, so choose comfortable outdoor furniture like wicker sofas, armchairs, and ottomans. Install a shade structure such as a pergola or umbrella if the area gets lots of suns. 
Add decorative features

: Choose outdoor decorations that reflect the atmosphere you're trying to create. Consider adding colorful throw pillows, comfy cushions, and area rugs—string lights around your seating area to create a cozy ambiance. 
Install a swimming pool:

When creating a luxury resort-style backyard, nothing beats a swimming pool. Decide on the size and type of pool that fits your outdoor space and budget. Consider adding features like a hot tub for additional relaxation. 
Design a backyard kitchen:

An outdoor kitchen is also one of the main features of a luxurious resort-style backyard. Invest in high-quality outdoor appliances, like a grill, refrigerator, and stove. Add countertops, a sink, and storage solutions to complete the look. 
Plant trees and flowers:

To create a luxury outdoor oasis, add trees and plants to create a lush and tropical landscape.
Outdoor Furniture Collection That Will Complete Your Resort-Like Outdoor Living Space
Laidback Patio Furniture 
Sasso Outdoor Chairs
Sasso patio furniture is designed to add a contemporary, sophisticated touch to any outdoor space. The chic round figure is crafted from weather-resistant woven synthetic rattan and complemented with neutral-toned olefin seating cushions. The contemporary classic look of this designer outdoor patio furniture makes it a perfect choice for softening any outdoor setting. The sleek, stylish design with clean lines and comfortable cushions will give your family and guests comfortable seating while adding an attractive accent to your patio or garden.
Paz Outdoor Patio Furniture
This coastal-oriental style Paz patio accent furniture features a stunning yet simple design that will stand out. The large round seating area is constructed out of woven synthetic rattan, which is weatherproof and durable. Reinforced with a robust aluminum frame, the seating area is upholstered with comfortable olefin cushions. The curved arms of the patio furniture allow for comfortable lounging, and the cushions come with a tie-down system that allows them to be firmly in place even in high winds. This gorgeous outdoor patio furniture makes for an elegant yet laidback, beachy addition to any outdoor space.
Tropical-Style Outdoor Dining Chairs
Cohen Patio Furniture Sets
Cohen outdoor dining furniture uses a robust matte black steel frame and neutral-hued woven synthetic rattan. The frame is sturdy and built to last, ensuring durability. Its neutral hues provide an elegant and timeless look without compromising practicality. The synthetic rattan adds a natural element to the dining furniture, creating an inviting and cozy atmosphere. The patio chairs are UV, weather, and rust-resistant, adding to their product life. It is also easy to clean, requiring only a hose or damp cloth for worry-free maintenance. Its practical nature and timeless design make the Cohen patio set an excellent choice for any outdoor space.
Laporte Patio Set
The Laporte outdoor patio set is perfect for al fresco dining and relaxing. It features a sturdy metal frame covered in a woven synthetic rattan veneer for a unique and stylish look. It is finished with an organic palette of rich, warm walnut brown tones, providing an inviting backdrop for outdoor dining. The patio furniture sets include two dining chairs for more comfortable and beautiful conversations.
Weather-Resistant Coastal-Style Outdoor Table 
Hatteras Outdoor Table
This outdoor dining table is made from eucalyptus wood with a natural grain finish, providing a rustic yet modern look. The base is sturdy wood, featuring a rectangular figure, perfect for indoor and outdoor spaces. To complete the look, fiery orange palettes have been added along the outside edges to give a vibrant pop of color. This outdoor table is the perfect addition to any patio, backyard, or garden area, providing plenty of space for everyone to dine together. It's also highly practical and resists most weather conditions.
Shore Outdoor Patio Table 
This outdoor table features a sleek, modern design that will give any outdoor space an edgy look. The frame is made from chrome-finish aluminum, contrasting nicely with the dark gray wood tabletop. Its glossy rectangular minimalist figure will make any outdoor space look trendy and contemporary. The tabletop is a deep shade of wood that gives the outdoor table a chic opulent but with a coastal touch. The contrast between the wood and the metal frame gives this outdoor dining table an unparalleled look. The table is also highly durable, making it an excellent option for entertaining outdoors with friends and family.
Outdoor living space at home can be an excellent way to improve mood and appetite. Spending time outdoors in the fresh air invigorates the mind and body, increasing oxygen levels in the blood and helping people feel more relaxed and energized. Additionally, eating outdoors can often be a more enjoyable experience than eating indoors, with the added benefit of better digestion associated with outdoor dining.
Bohemian Home Decor, is an online furniture store with an uncanny, stylish outdoor furniture selection. We have pieces that range from metropolitan meets coastal style to ultra-modern minimalist outdoor furniture. Browse our outdoor furniture collection and create that ideal space that can help improve your mood, family bond, and lifestyle.