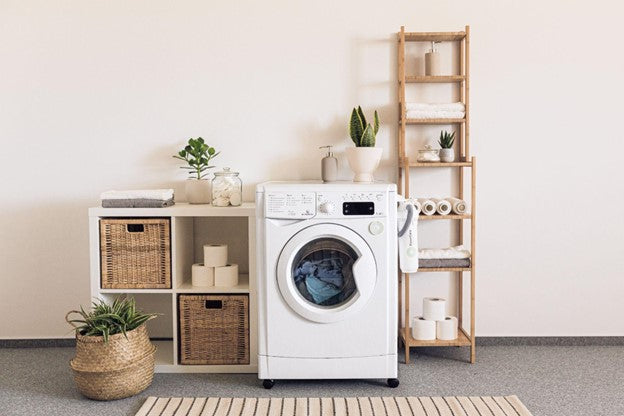 How To Clear the Clutter in Your Laundry Room?
Doing laundry is a nuisance, especially when you have to do them during your weekends when you're supposed to be relaxing. One thing that adds stress to such a chore is the clutter. The more chaotic the area is the longer and the more dragging it is to get things done. 
Clearing the clutter around your laundry room will turn the chore into something fun and easing to do. There are a few furnishings you can add to organize your laundry essentials. So, if you are tired of all the clutter in your laundry area, here are some tips:
Keeping Your Laundry Organized With These Laundry Room Essentials
A Washing Machine Cabinet
Apart from organizing your laundry essentials in one efficient place, having a washing machine cabinet also adds style and sleek character to the space. Our Washing Machine Cabinet Set Chipboard Cabinet Storage is an ultimate laundry organizer that can make work more efficient. It is simple, functional, and space-efficient. 
The economical design of this washing machine cabinet will bring optimum function while giving you that extra time to read a book on your Mid-century lounge chair while waiting for your freshly laundered linens and silk. 
Stylish Laundry Hampers
Every laundry room has a hamper, but why not choose one with a little charm that can serve its intended purpose? Our Seagrass Belly Basket with Handles is not only aesthetically appealing but also lightweight and can carry and store your dirty laundry adeptly. 
Our Seagrass Belly Basket is versatile, natural, and made with love from the local makers of Vietnam. It is a sustainable item you can add to your laundry room that will add a touch of raw essence to your atmosphere. 
Ottoman For Leisure Laundry
Why not read a book while your laundry machine works its magic? A nice and cozy Probe Ottoman Bohemian Home Décor can provide a spot to lounge as you wait. Its classic appeal in fusion with its modern materials adds a more unequivocal function and style to your laundry space.
Doing laundry need not be a drag. Having an efficient and posh space to do such a boring chore can alter how you think about laundry day. Every home deserves an efficient laundry space clear of clutter. And these items might just do the trick!