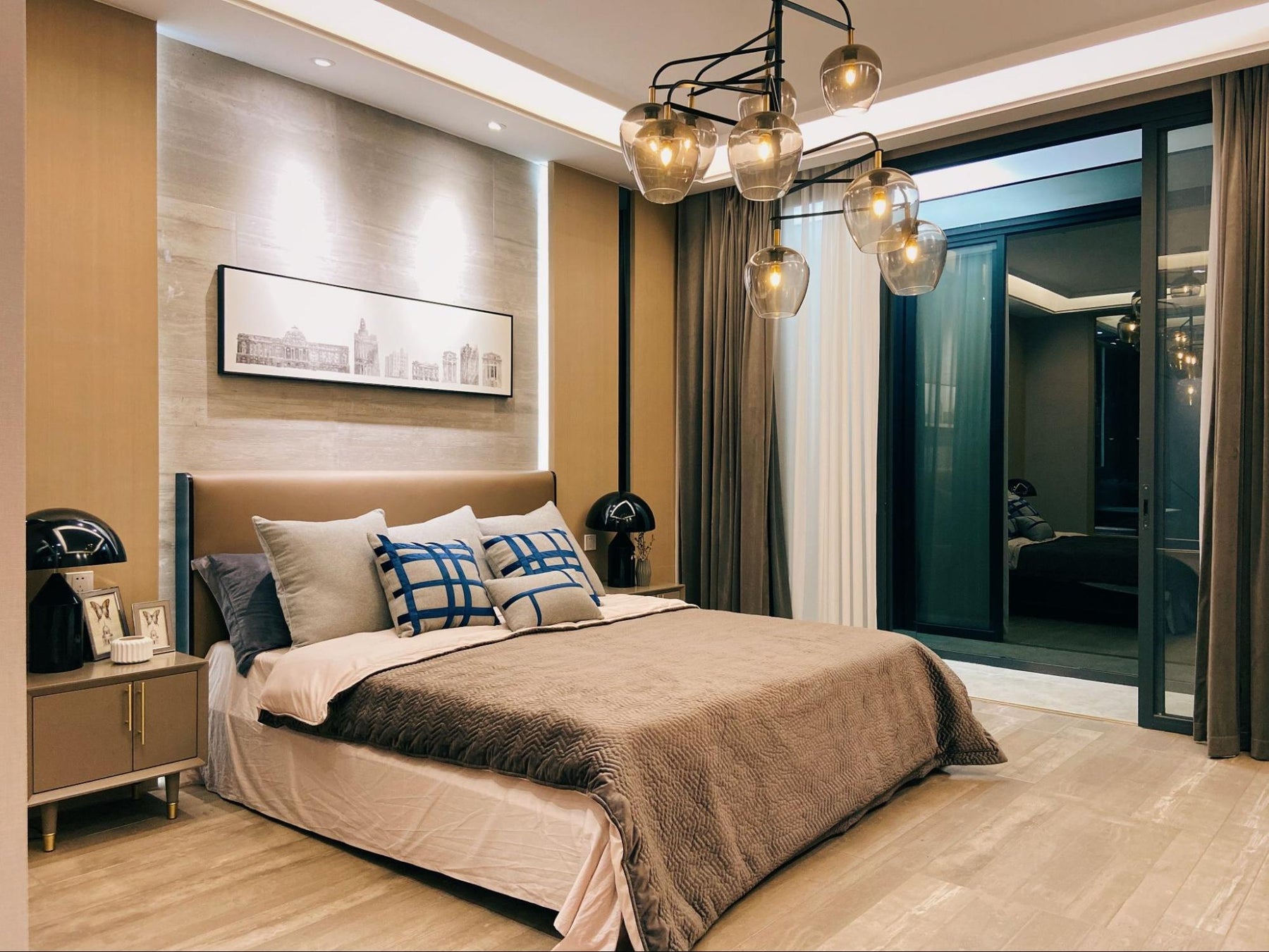 How to Choose a Bedroom Chandelier?
A bedroom with a chandelier appears dreamy and luxurious. The grandiose of its facade will make a huge statement in your space. Chandeliers render a kind of illumination that envelops the bedroom with a heavenly glow. It decorates your ceiling with an intricacy that can satisfy your visual thirst for art. Hence, before you pick a chandelier for your bedroom, here are some tips we have curated to ensure it fits your space, style, and lifestyle.
Tips on Picking the Right Chandelier for Bedrooms
Bohemian Home Decor has a diverse selection of chandeliers. Western style, classic designs, and modern chandeliers are a few items we have in store. On a different note, here are our tips for picking the ideal hanging light fixtures for your bedroom:
The Size
The size of your bedroom chandelier must be proportionate to the ceiling height of your bedroom. The perfect chandelier height for a 12x14 ft ceiling height is around 20-30 inch with a diameter of 26 inches. The higher your ceiling, the higher your chandelier should be to keep it looking altogether. Hence, it is crucial to handpick a chandelier that can fit your space and your ceiling height. Imagine installing a long chandelier on a short ceiling. Apart from being cautious to avoid hitting it with your head, the light will be bleak and less effective. 
Sparkle Amber Glass And Antique Brass
The Sparkle Amber Glass Antique Brass pendant chandelier gives off a lush illumination that will keep you warm at night. It has 18 immaculate glass globes that will create a dramatic glow to your evening. It is a Mid-century pendant lighting that displays quite a radical figure with a touch of supple edges fused with an industrial touch.
The Function
Of course, the purpose is an important consideration. Your lifestyle must be aligned with every design element in your space. It can be a part of something essential like ambient lighting, or it can be purely decorative. A little something to inject a calming or a posh mood. Thus, it is important to pick a bedroom chandelier to serve its intended purpose. The light levels and dim options are mood-altering factors that can guide you in picking the most ideal chandelier for your bedroom.
Resound Amber Glass And Brass Pendant Chandelier
The Resound Amber Glass And Brass Pendant Chandelier have a dashing appearance that can alter your mood. The opulent gold brass and the vivid reflections of the glass globes can instantly turn your bedroom into a luxury haven. The perfect mood-altering lighting will wrap your space with an awe-inspiring ambiance.
The Wattage
The wattage is important in ensuring that your chandelier has enough luminescence to light up the whole room. It will add to its purpose and efficiency. To determine the right wattage for your room size, multiply the width of your bedroom by the length to get the total area. Then, multiply the area by 1.5 to know how much wattage you will need to illuminate your space. 
Hanna 8-Light Chandelier
The Hanna 8-Light Chandelier consists of 8 bulbs with 25W each. That total of 200W is enough to light up a standard-size bedroom. The Hanna 8-Light Chandelier displays an implicit Mid-century style with a twist of modern ritz. It is anchored with polished gold brass bracing beautifully curved to add a touch of softness and subtlety. The breathtaking glow it emits will uplift your spirit and better your mood. It will layer your bedroom with a tasteful blend of luxe and practicality.
The Mood and Harmony
The style of your bedroom will tell the kind of mood lighting you will need. For a modern bedroom, slick, crisp, and edgy hanging light fixtures will complement the space. Chandeliers made of metal are ideal for spaces rendered in a modern style. As for traditional bedrooms, an antique crystal bejeweled chandelier will add more grandeur to your space while cohesively blending in with other classic pieces. 
Teleport 52" Chandelier
The Teleport 52" Chandelier will look harmonious in western-themed bedroom spaces. Antlers and wagon wheels are the two best distinctions of western-styled chandeliers. This piece is attention-seeking. Its sensational facade will give your space a sense of majestic appeal while providing functional, aesthetically appealing lighting in your bedroom. The simplicity of its figure will make it easy for you to amalgamate with other design elements. You can add a touch of whimsy and graceful veneer by hanging some dried floral garlands, beads, and tassels.
Chandeliers allures every eye that gazes. It has a tantalizing appeal that will add a layer of luscious illumination to your space. Bohemian Home Decor curates stylish chandeliers all over the world. We handpick every piece to add a unique touch to your interior lighting. 
Bohemian Home Decor is an online furniture store that curates stylish, versatile, and functional interior decor, furniture, and lighting. Our boutique-like customer service provides a satisfactory experience for every purchase. 
Bohemian Home Decor gives a comfortable and secure online shopping experience. Our online furniture store is armed with advanced digital technology that allows our customers to explore, purchase, and make transactions with ease and unequivocal security.