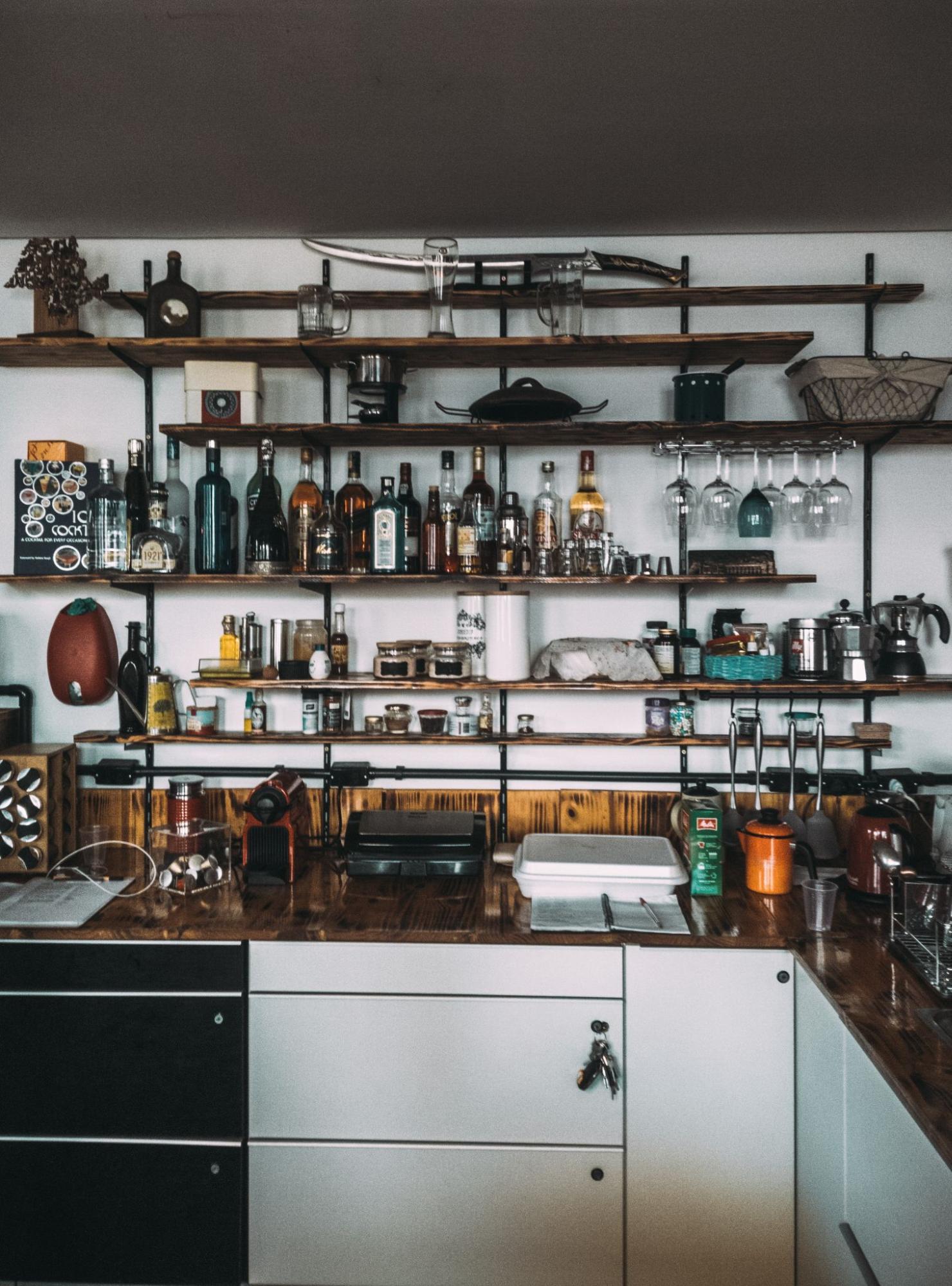 DIY Home Bar Design for Under $1500
What could be more refreshing after a long day's work than a nice cold beverage from your home bar? Creating your own little corner for your late-night leisure or weekend chill need not be too expensive. In this DIY era, anybody can design a functional and stylish home bar on a budget. However, endless furniture and decor options can be overwhelming and leave you confused about what to pick. The good news is Bohemian Home Decor took the liberty of curating a few home bar essential pieces that can deliver a more playful and functional home with your own entertainment area. 
DIY home bars need only a few vital pieces to pull off. A bar cabinet, bar stools, and a luscious mood lighting fixture can make all the difference. So, if you are looking for a stylish blend of home bar furniture at a low cost, here are our top picks:
DIY Home Bar Essential Furniture and Decor
The Contemporary Render Bar Cabinet
A contemporary bar cabinet can easily dwell in any interior space. Chic and simple with a touch of contemporary elegance are what the render cabinet exhibits. A wood bar cabinet embellished with horizontal linear contemporary details. The luscious dark midnight blue palette adds a sophisticated appeal while creating a luxurious style for your home bar. It is an ideal piece if you don't have enough space for a larger cabinet. It can conveniently house your small collection of wines and home bar essentials such as wine glasses, glass, and other cocktail needs. It has enough storage to keep your home bar clear of clutter. You can use the top to add decor or more bar essentials. 
The Polished Auburn Bell Shaped Glass Pendant
To give your home bar an actual bar ambiance, pendant lighting can render an intimate atmosphere that will get you into that relaxed mood. It will enhance your space with a bleak yet purposeful glow. The Auburn Bell-Shaped Glass Hanging Light will layer your tiny DIY home bar with more interesting and dramatic illumination. The shimmering surface of the polished clear bell-shaped glass will add depth to your overall design. The blissful simplicity it flaunts can create a more cohesive and well-curated style for your space. It will look perfect in a set of three.
All you need is a pair of lavish bar stools to complete the experience. A modern Mid-century bar stool will add a defined and refined iconic figure to your home bar. These wooden bar stools have slick contemporary curving edges beautifully and precisely crafted to create an elegant piece of home bar furniture. It is anchored on a shimmering satin-like chrome finish thin, round base to balance the light-brown veneer of the seat. It is ergonomically structured to ensure a comfortable seating experience while sipping your neat whiskey. 
An Elegant Minimalist Dylan Mirror
A mirror will add a theatrical reflection to your small DIY home bar. It will make a more spacious facade while delivering a real bar atmosphere to your home. This minimalist large wall mirror will create a simple yet purposeful decor for your home bar. It has sharp, defined edges and tantalizing natural wood grain veneer. The luscious reddish-brown wood veneer palette makes it an easy decor to blend with your other home bar furniture.
Your home is a sanctuary intended to provide the utmost comfort after a hectic day. It is supposed to bring the most comforting ambiance during the weekends you spend at home. It has to deliver amenities that can improve your lifestyle and mood. A home bar may seem like an extra cost and not at all necessary in a home yet, but you will have a better time at your house as soon as you have it. It will give your home other functions that can uplift your well-being. So, designing your home bar can be one of the best features around your house. For only $1,365, you will enjoy your evenings in your tiny personal home bar before you end your day. 
Bohemian Home Decor is an online furniture store that delivers a one-on-one boutique-like online shopping experience. We designed the website with high-end technology to provide a satisfactory user experience and interface. We equipped our website with the most sophisticated features to provide easy navigation and browsing experience. Our furniture collection boasts trending styles, top-notch durability, economical prices, and a diverse selection.
From charming classic pieces to ultra-minimalist furniture variations and decor, you will have every home interior essential you need all in one place. Our US-based warehouse guarantees fast delivery. We are your one-stop furniture shop that can refresh your space on a budget.