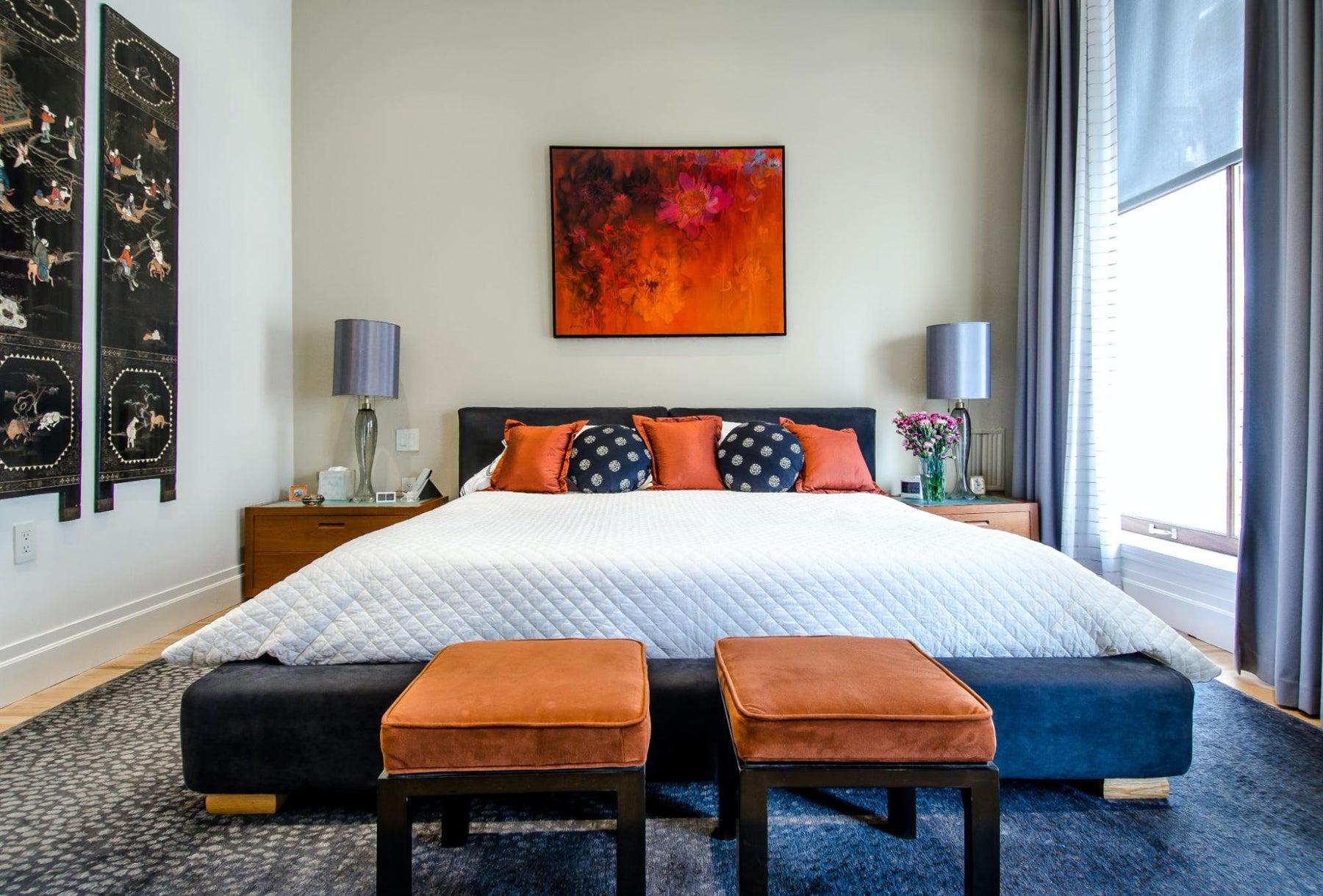 Best Bedroom Trends & Decorating Ideas | Bohemian Home Decor
Bedroom Trends & Decorating Ideas
Your bedroom is your personal sanctuary that cradles you to sleep. It has to display your unique taste and character. Also, it has to be a relaxing space that can help trigger a good night's rest. Your comforting bed, satin-like sheets, heart-warming lighting, and calming colors all contribute to the delicate essence of your bedroom. 

Decorating your bedroom can be a breeze with the right furniture, decor, and lighting fixtures options. Perhaps an online furniture store that can cater to all your design needs might be just what you need. 

Bohemian Home Decor has the best selection of trendy furniture and decor. Everything you need and want when designing your bedroom is contrived in one boutique-like online furniture store. So, if you are looking for ideas on how to refresh the looks of your bedroom, here are some ideas:
Decorating Ideas for Your Bedroom
Use Art as a Statement Piece
Your bedroom is an intimate space where you gather your thoughts, have a relaxing time, and enjoy your nighttime routine. Putting up an art space in your bedroom will add tasteful entertainment. An ideal option is an artwork you will love and never get tired of glancing at. 

The palettes of the artwork you chose can be the color scheme of your bedroom. You can choose the furniture and other decors that are cohesive to your art piece or prints. You can experiment with other hues that compliment the colors of your art.
Layer Your Bedroom with Ambient Lighting
Your bedroom has to display different levels of lighting. It can help you switch your lively mood into something calming and relaxing. Also, the colors of your light will play a significant role in changing the atmosphere. 

Your lighting design has to be functional and aesthetically appealing. Perhaps a task or wall lighting perched on your wall for when you are about to read yourself to sleep. Then, general lighting for your convenience when getting ready for another day at work.
Spruce it Up with a Colored Furniture
Add a variation to your furniture by adding playful and colorful furniture. In an otherwise neutral space, a pop of color will add a visually striking appeal. It will be captivating furniture that will take away the blandness. A simple colored side table on both sides of your bed will be functional and aesthetically alluring.
Integrate a Clever Storage Space
Clutter can trigger a chaotic mood. Enough storage for all your belongings is an integral part of the design process. If you want a peaceful and calming bedroom, it is ideal to have a space to clear the clutter. 

A piece of clever furniture that can stylishly store your things is the best way to go. Perhaps a bespoke cabinet will put all your things in place. It can transform your space into a relaxing haven where you can rest and have a wonderful evening. 
Clearing the clutter can improve your mood and your sleeping habits. Cabinets rendered in neutral colors are a wise option. It will bring a soul-warming ambiance without putting off the balance among your other decor and furniture.
Layer Your Bedroom with Intricacy
A blend of textures, cohesive patterns, and harmonious colors can create an atmospheric calmness. Explore simple patterns and bold colors that go well together. It can help you design a space that exudes a rich and pleasing space without being dull and lacking taste. 
It's all about the small details that make the overall design. Cohesive design elements can add visual interest while subtly showing off your personality to your bedroom. Perhaps a curtain with modest patterns can pair well with an ottoman with a solid neutral palette. Either way, designing your ideal bedroom is all about balance and harmony. 

Be bold, be subtle, or be charming, is your choice. You are the permanent dweller of your room, and it has to be your taste and style. As long as you thread together design elements in perfect balance and harmony, you will be able to have a relaxing sleep and valuable moments in your bedroom. 
Bohemian Home Decor curates exquisite lighting fixtures. Our array of floor lamps, pendants, wall lamps, and other lighting essentials exudes unequivocal quality and style. Our US-based warehouse guarantees our customers receive their hand-delivered package in pristine quality and perfect shape. 
Shopping at our online shop is a boutique-like experience. We provide one-on-one attention to our customers to ensure their satisfaction. Bohemian Home Decor is the one place you can indulge in online shopping while having the assurance of quick delivery and secure transactions.