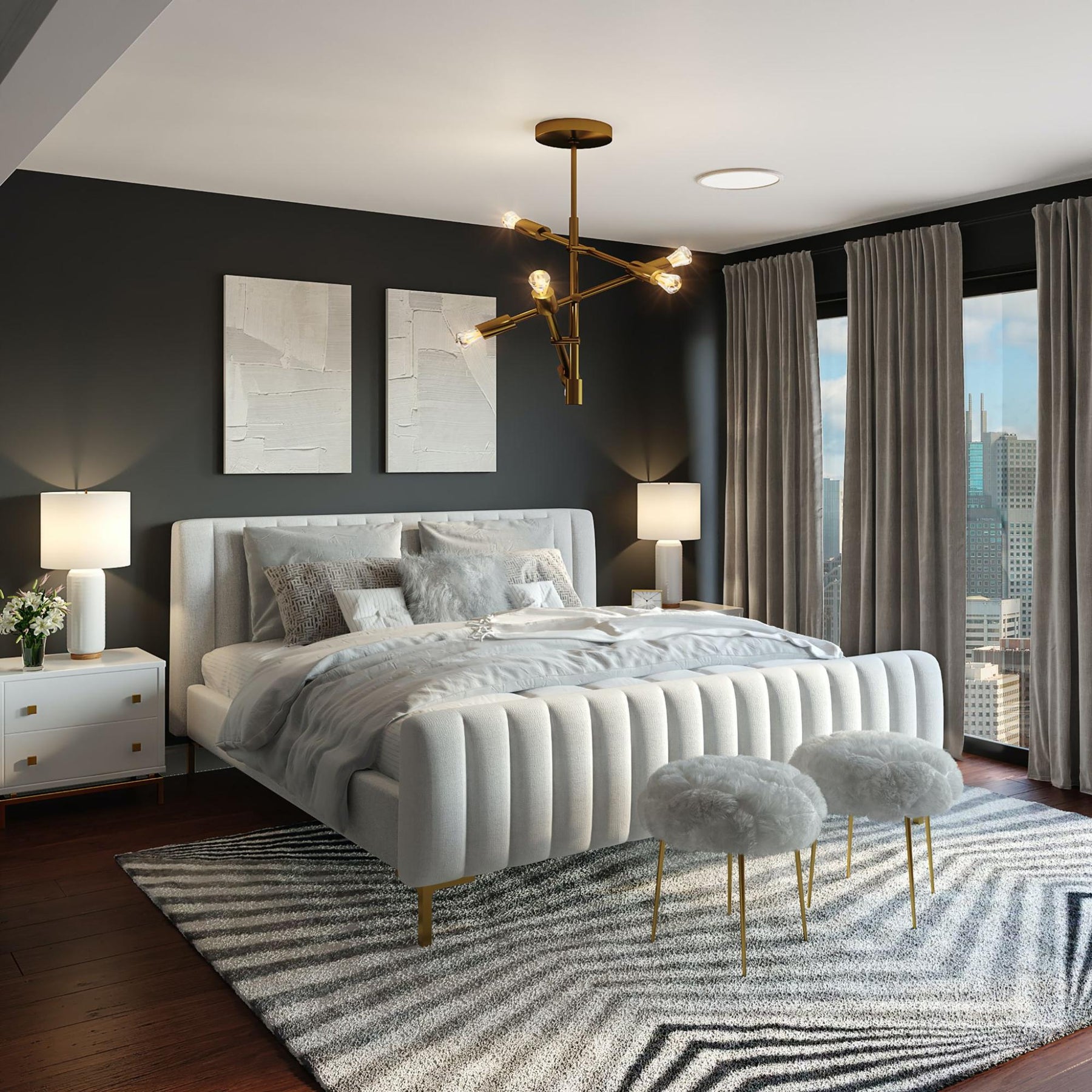 5 Types of Ottomans and What to Know Before You Buy
Ottomans aren't purely decorative. They have specific functions in a space that add efficiency and comfort. There are several types of ottomans you need to know before opting to buy one. It can help you know what kind you need for your space to add a more purposeful essence to your room.
Bohemian Home Decor has an array of ottomans that can cater to your different needs. Our online furniture store will give you the best options you need, from ottomans to holding your cocktail to something with extra storage. 
Kinds of Ottomans Ideal for Your Needs and Space
Ottoman with Storage
Ottomans with hidden storage are a gem. Apart from adding a taste of style to your space, it also gives you that extra storage to clear the clutter. From your kids' toys, blankets, and remote controls, ottomans with storage will help you clear the chaos in your space. 
Our Square Velvet Storage Ottoman is an elegant piece embellished with gold legs to add a twist of luxury to your space. It is an elegant ottoman with storage designed for your comfort and convenience. It will perfectly dwell in a posh space with posh needs. It will also make a cozy foot rest for your modern Mid-century chairs or lounge chairs. It will add balance and extra comfort to your seating experience. 
A Cube Ottoman
A cube ottoman is an ideal solution if you don't have enough room for a bigger one. It is designed to add a taste of practical function to your space and is scaled to fit small spaces. 
Bohemian Home Decor's Decorative Grey Foldable Cube Ottoman can be conveniently put away if not in use. It is a sturdy and
practical ottoman
that can fit your tiny corners. It is rendered in a simple grey hue to blend well with any home interior
, modern Mid-century chairs, and lounge chairs. 
Cocktail Ottoman
The Cocktail Ottoman is made to hold your cocktails in beverages. It is structured with a sturdy top for stability. It exudes an opulent appearance and pristine quality. It is a perfect serving piece of furniture for your family and friends. 
Our Modern Round Velvet Ottoman has a pristine exterior and robust structure, perfect for your luxurious weekend cocktail party at your home. It is embellished with a gold base to add a twist of modern elegance while ensuring top-quality features and lasting purpose. It is a sophisticated ottoman for your luxurious home.
Tufted Ottoman
A tufted ottoman is an upscaled piece that adds a taste of classic richness to your home. Tufted ottomans are upholstered with high-end quality fabric. It displays a dynamic surface with a taste of simple, elegant patterns.
Bohemian Home Decor's Rectangular Velvet Storage Ottoman is a multi-functional ottoman. Apart from its ritz tufted surface, it provides extra storage to clear clutter. It is also structured with sturdy materials for a pleasurable seating experience while adding a touch of elegance to your space.
Smooth Ottoman
A smooth ottoman has a smooth, flawless surface that exudes a simple minimalist appeal that can fit any home interior and can blend well with your curated modern armchairs and accent chairs. Its smooth, almost reflective appeal will add a touch of dramatic ambiance to your space while providing the amenity it is intended for.
Our Round Velvet Ottoman Stool radiates a posh exterior. It is decorated with a gold base to upscale its look. The simplicity of its exterior made it a perfect choice for elegant spaces. It is a simple ottoman dazzled with magnetizing gold hues. 
Ottomans can provide you with the function you need and the aesthetic your desire. It is a simple piece of furniture that adds practical purposes to your everyday life. Bohemian Home Decor is an online furniture store that offers an array of ottoman types and styles.
Bohemian Home Decor curates ottomans that are aesthetically appealing and functional. Our array of ottomans for living rooms and bedrooms is diverse in design to cater to different design concepts.

We have a US-based warehouse that can guarantee the immaculate condition of all the ottomans we hand deliver. Bohemian Home Decor provides a boutique-like online shopping experience that can help you throughout your process of creating that ideal space for better everyday living.