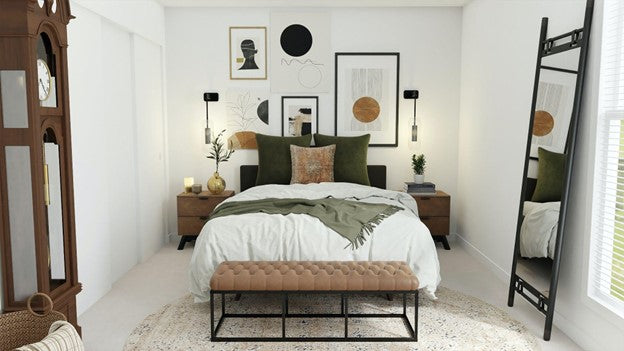 5 Tips for Decorating Your Bedroom
The bedroom is a resting nest. It is meant to exude serenity and comfort. Every design element in the bedroom contributes to its overall function and atmosphere. Having the ideal furniture, lighting design, color palettes, and decor can create a space that induces good sleep and relaxation. 
Bedroom designs are typically simple and unequivocal. The more cluttered your bedroom space is, the harder it is to get a good rest. Thus, designing a bedroom that can boost your holistic well-being is vital. It has to give off a calming ambiance, relaxing facade, and comfortable amenities. 
If you are planning on refreshing the whole look of your living room into a functional and tasteful abode, here are some of our tips:
How To Decorate A Relaxing Bedroom?
Pick a Simple Decor
Keeping the home decor simple will give you more room to add other design elements. Additionally, with simple home decors, the bedroom space will look cozy, elegant, and uncluttered. Furnishing your bedroom space with only what you need will give you more convenience for moving around. 
Ideally, a minimum of two feet between your bed and side walls for small bedroom designs are enough to provide ease of movement. Before embellishing your bedroom with large decor pieces, anticipate your daily activities, so you can customize your arrangement accordingly. Moreover, keeping the accessories to the minimum can keep your bedroom design clear of clutter unless you are aiming for a maximalist design. A few notable vases, some photos, and scented candles are enough to give your bedroom space a touch of style.  
Choose the Right Size Furniture
For small bedroom space, having large furniture is never ideal. Picking the right furniture will ensure you have enough space to move around. Additionally, the ideal furniture size can also bring comfort to your daily activities. So, it is best to get your bedroom's exact dimensions and sketch a floor plan with the right sizes of furniture. 
Heavy beds, dressers, and tall headboards are not ideal for small bedrooms. However, if you have enough space to fit them all in, go for it. If you have a tall ceiling, tall headboards can become an additional embellishment to your space. If otherwise, try to look for a more simple style that fits your bedroom size. An ottoman at the end of your bed can help fill negative spaces, so if you feel like your room is too plain, an extravagant ottoman can be your accent piece. You can also opt for a modern Mid-century chair for your reading pleasures.
Layer Your Lighting Design
Layering your bedroom illumination can turn your simple bedroom design into a beautiful, cozy abode. Apart from your general lighting, you can embellish your walls with ambient lighting to highlight your simple wall decors. 
Moreover, if you like to read or do a little bit of your personal hobby before going to sleep, task lighting can contribute to the purpose of your bedroom. Side lamps and sconces can be easily directed to the area that you intend to illuminate. Thus, they are a great option for night lights.  
Paint Your Walls With a Subtle Color Palette
Colors can instantly change a mood or invoke emotions. Bright and bold colors are energetic. Painting your walls with striking colors will not contribute to its sole purpose: to calm the mind and relax the body. 
Restful palettes such as Pantones, neutrals, rich and dark palettes, and muted hues are ideal for bedroom designs. They are more soothing to the eyes and can set a calming mood, hence, you can feel serene and peaceful as you enter your bed chambers. Monochromatic palettes with an accent color are also best for bedroom designs. The accent color can take away the enveloping modesty and balance it with striking visuals.  
Have Plenty of Storage
Having enough storage space can help clear the clutter. It will keep things not in use out of sight. So, if you have a small bedroom space, choose furniture pieces that come with extra storage. Perhaps, a modern Mid-century lounge chair with an ottoman that bears secret storage. It can help create a roomy bedroom space without clutter. 
Your bench at the foot of your bed can also contribute to your additional storage space. So, choose a piece of furniture that can keep your other things organized in one place so you can enjoy dwelling in a calm and clutter-free bedroom nook. 
A bedroom is a place where you are supposed to feel relaxed, calm, and steadfast. If your own personal space where you can just be simply yourself. Decorating your bedroom is a great way for you to exhibit your personality. As long as you plan everything you want, including the right size, color, and style in mind, your bedroom can always be a place for you, and only for you. 
Bohemian Home Decor is one of the best online furniture stores that cater to all kinds of furniture needs. We have a tasteful selection of modern Mid-century chairs, armchairs, and accent chairs. On top of that, we have an array of home decors for all seasons and styles. Our boutique-like online shopping customer service ensures that your transaction will be hassle and worry-free!