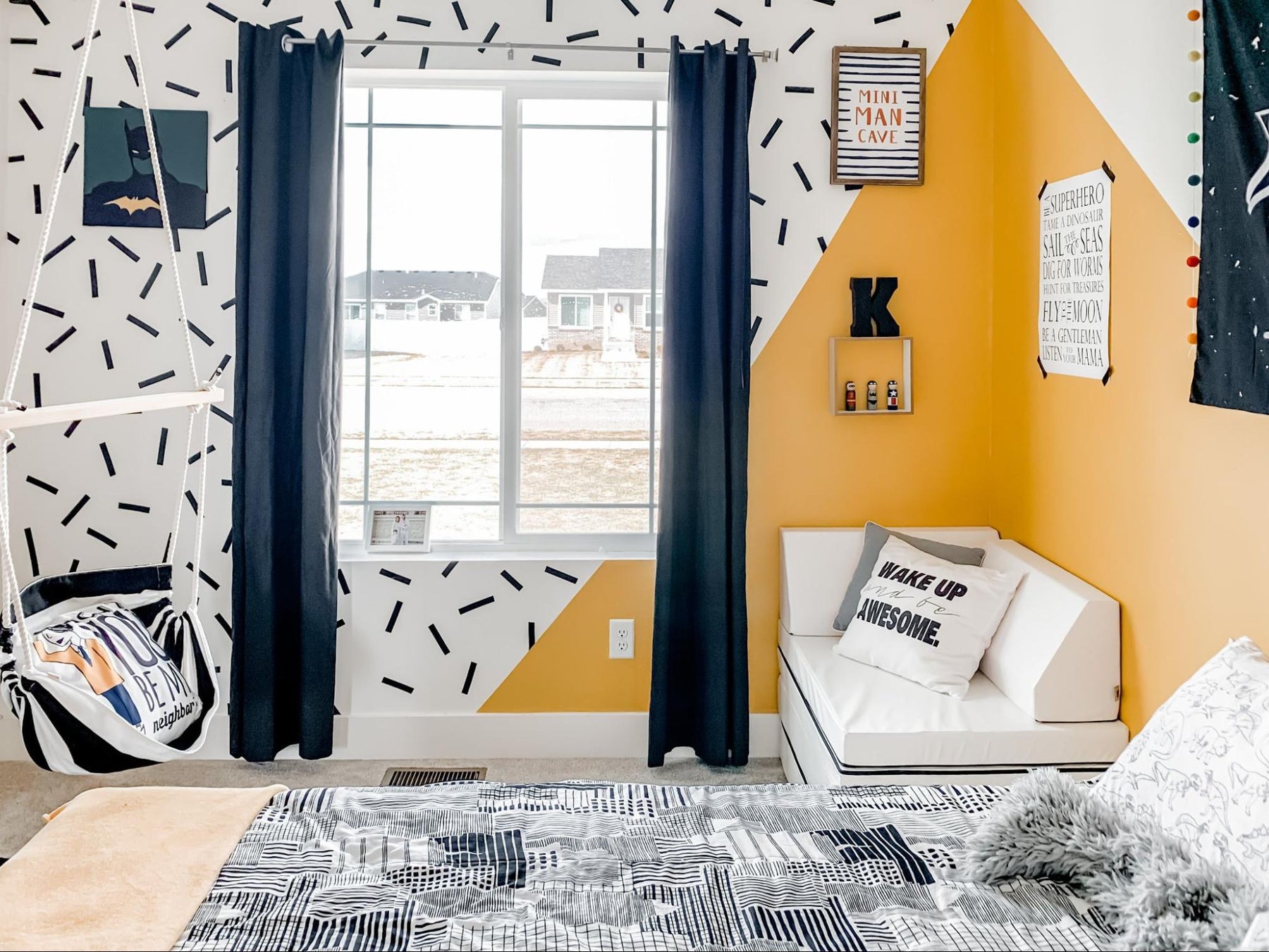 20+ Classy Bedroom Wall Decor Ideas to Style Up Your Space
A wall is a blank canvas that can be transformed completely with wall decors. Your bedroom wall will exude a different look when embellished with wall decor ideas that speak to your personality. 
There are countless ways to decorate the blank walls in your room. If you want to add a taste of style to spruce up your bedroom, here are some tips that will remake your bedroom:
Unique Bedroom Wall Decor Ideas 
Create an Accent Wall
One of the quickest ways to turn your bedroom into a stylish abode is by painting a feature wall. It can be in the form of painting bold, striking colors, adding intricate painted patterns, or decorating the wall with splashes of colors from the ceiling to your floors. You can choose a color already in your color scheme or pick a contrasting hue to make a bold statement. Add a taste of modern armchair or accent chairs and you will have a small area for your leisure reading.
Style Your Headboard with Bold Details
Typically, your bed is the focal point in your bedroom. Thus, if you have a bold headboard, it will instantly add style to your bedroom. Perhaps put a carved wood, create makeshift shelving, or put a captivating object, sculpture, or decor. 
Install a Playful Shelving To Feature Your Decors
DIY shelving is easy to do and by far the cheapest. It is aesthetically appealing as well as functional. Adding fun shelving to your walls can create a visually striking display of your books, vases, small sculptures, potted succulents, and other decors. 
Paint a Unique and Bold Mural to Your Wall
Murals are one way of adding a taste of fine art to your bedroom space. You can customize the design, colors, and figures easily to match your space's other design elements. A mural will help you create a cohesive design while making a bold impression. It will make an artsy wall decor for your master bedroom.
Hang Raw Baskets Above Your Bed
If you are going for that boho-chic look, natural baskets will make a great wall decoration for your walls. Apart from providing more storage, it will also add a touch of natural essence to your ambiance. 
Integrate Shiplap to Your Rustic Design
A shiplap exudes a rustic appeal with subtle aesthetics. It will add layers and textures to your bedroom while emanating a pastoral appeal. A shiplap will make a nice raw look to your bedroom. It will also modestly emphasize your ceiling height. 
Paint an Arched Shape By Your Headboard
If you want something less expensive yet striking, an arched figure that appears like a headboard will add style to your bedroom. You can choose a cohesive hue or a contrasting palette to inject interest.


Install a Metal Sign
A metal sign is a robust wall decor that will withstand the test of time. Additionally, it is a modern element that will make a perfect addition to your bedroom. You can choose a metal sign with radical shapes or a statement word matching your lifestyle. 
Add a Displate
Displaying a displate is more durable than metal signs. It can make the printed signs last while turning your blank wall into an art gallery. Displates are thick metal plates printed with various designs. Thus, you can have a lot of options to choose from that can match your bedroom scheme. 
Create an Accent Wall by Building a DIY Slat Wall
Slat walls will make an impressive accent to your wall. It will add depth and natural texture to your walls. Adding panels of slats to your wall will make your room appear higher, for it features the dimensions of your ceiling beautifully. It will also stand as a perfect backdrop for your handpicked modern Mid-century chair or lounge chair.
Embellish Your Wall with a Large Macrame
Macrame is a hip and boho-chic way of decorating walls. You can hang a large one by your headboard or pick a spot that can highlight your macrame design. You can also incorporate some vines and terracotta pots to complete your whole bohemian look. 
Make a Gallery Wall
A gallery wall will make perfect entertainment in your bedroom. It will add layers of colors, figures, and style to your walls while having a little something to look at when you wake up in the morning. If you love appreciating art, your own gallery wall will be perfect.
Add Some Lively Greens
Live plants will add to your aesthetic and help refresh your mood just by looking at them. Live plants will also cleanse your bedroom's circulating air while providing a calming and serene mood. 
Curate a Bold Statement Piece
If everything else in your bedroom is too simple, revamp your whole aesthetic by adding a bold piece. You can incorporate your statement piece on top of your bed to add a striking focal point. A statement piece can either be cohesive to your scheme or completely add a tasteful contrast. Armchairs and accent chairs will make a bold statement piece in your bedroom while adding more seating options.
Decorate Your Blank Wall With Tapestry
A tapestry is a beautiful way of adding a touch of culture to your bedroom space. A large tapestry that can cover your whole wall will make an exquisite accent wall. Tapestries are also cheap yet can add a taste of interest to your bedroom design. 
Add a Playful Fan On Top of Your Bed
Fans are fun and playful. A raw woven fan will make cute decor for your bedroom while adding organic essence to your space. Fans also bear a beautiful meaning. It symbolizes wealth and good luck according to Chinese beliefs.
Decorate Your Wall With Decorative Mirrors
In a small bedroom space, a mirror will add an illusion of spaciousness. A decorative mirror is both aesthetically appealing and functional. It will add more purpose to your bedroom while adding layers of strobing mirror images to your surroundings.
Lean a Large Mirror onto Your Wall
A large mirror leaning onto your wall is another way to incorporate a visually striking appeal to your space. A floor mirror is eye-catching and will make your bedroom feel and look larger. You can choose a whimsical mirror frame to layer your space with intricate classic details and some dreamy appeal.
Make a Classic Statement with Carved Wood
Carved wood with classic swirls will add a taste of elegant rawness to your ambiance. It will make beautiful ornamentation to your simple bed. You can install carved wood on top of your bed to create a visually entertaining headboard design. 
Cover Your Walls with Wallpaper
Covering your walls with wallpaper is a sublime way of creating a maximalist bedroom design. You can pick a wallpaper with bold designs or vivid yet intricate prints. Either way, as long you are able to balance other decors, your bold wallpaper will envelop your bedroom with exquisite patterns and prints.
Put Flowers on Your Wall Sconces
Sconces are not only limited to lighting fixtures. If you have a wall sconce with a small container holder, you can place a simple vase and put flowers in it. Sconces with flowers will add a taste of feminine glow to your atmosphere while creating a graceful silhouette to your bedroom. 
Add Symmetry by Pairing Wall Lights
Wall lights create a rich and tasteful glow in your bedroom. If you want to add symmetry to your focal point, installing a pair of wall lights will be visually appealing and add more purpose to your bedroom. It will render exquisite silhouettes while highlighting the impeccable details of your Mid-century modern chairs and other design elements.
Decorate Your Empty Wall with Iron Sconces
Iron sconces are often decorated in an Art Nouveau or Victorian style. Iron sconces will add soft curvatures and graceful details to your bedroom if you have a boho-chic bedroom. Iron sconces also hold candle holders that will create intimate silhouettes for your evening.
Wall decors are design elements that can thread the overall appeal of your space or make a beautiful contrast to add an intriguing appeal. Bohemian Home Decor picks radical prints, elegant wall clocks, and other wall decors to turn your blank wall into a tasteful exhibit of your unique personality. 
Bohemian Home Decor is an online furniture store that provides furniture and decor that adds a unique character to your beautiful abode. We provide a boutique-like online shopping experience to uphold the quality of products we curate globally. Our website is structured with high-end technology to ensure every transaction is secure and easy.